'We are positive that he will make a successful return to international cricket.'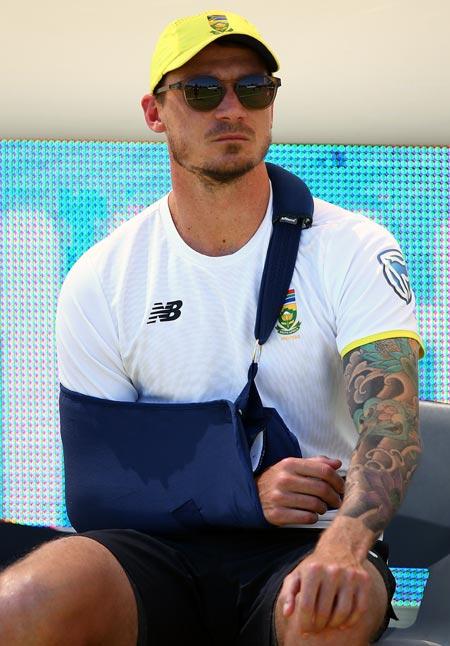 South Africa's fast bowler Dale Steyn has undergone surgery and will be out for at least six months after breaking a bone in his shoulder in the first Test in Australia earlier this month, Cricket South Africa said on Sunday.

The 33-year-old Steyn returned home for the operation in Cape Town, which was performed on Thursday, and had a screw inserted in his right shoulder blade.

South African team manager Mohammed Moosajee said he will be out for a minimum of six months before he can even attempt to bowl again.

"It is crucial to give the injury enough time to heal and to make sure that he is completely pain-free before he starts bowling again. He will begin with his rehabilitation programme once the satisfactory bone healing has taken place. This is expected to be in a few weeks," he said.

"We are positive that he will make a successful return to international cricket."

Steyn, who is just four wickets shy of Shaun Pollock, South Africa's most successful Test bowler, suffered the fracture while bowling on the second morning of the first Test win over Australia in Perth.

"I felt this pop or thud in my shoulder and I was in a lot of pain... and went for an MRI and I've got a clean fracture in the bone that is inside my shoulder. It's not pretty," Steyn told Australia's Channel Nine the day after suffering the injury.

"I just felt something go. I did something very similar against England in December in a similar area but it wasn't as bad. That was a stress reaction which is like a very hairline fracture, a small crack."

Steyn missed almost all of the series defeat against England after injuring himself in the first Test in Durban last December.

He returned to play in March's World Twenty20 and took eight wickets in August's Test win over New Zealand. He has 417 Test wickets at an average of 22.30.
Image: South Africa fast bowler Dale Steyn
Photograph: Paul Kane/Getty Images