Deceased South Africa cricket captain Hansie Cronje, who fell from grace by admitting to match-fixing in 2000, was remembered by his family, former teammates and fans on his 10th death anniversary.
Cronje was the central figure in the biggest crisis in international cricket in 2000 when he admitted to match-fixing during a game in India.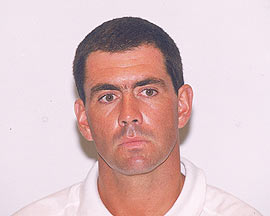 In his subsequent testimony at the Commission of Inquiry set up by the South African government, Cronje tearfully admitted that "the devil made me do it". He was banned for life from the sport after that.
The Commission ended inconclusively and Cronje was killed when a goods plane in which he hitched a ride crashed close to his home in 2002.
The investigation into that crash also ended inconclusively, with speculation still rife that Cronje's death may have been arranged by bookmakers who believed that he knew too much.
Ewie Cronje, Hansie's father, said he still could not believe that his son was gone.
"It feels as though he will appear at any moment," Cronje told the Afrikaans daily Beeld.
Facebook fans declared Cronje the best captain the Proteas had ever had while former teammates said they had forgiven him.
Pat Symcox said the Cronje saga had divided South Africa, but was in the past and people should now move on.
Former paceman Fanie de Villiers believed that Cronje had done 90 percent good and 10 percent bad.
"Anyone who influenced the scales like that, will be forgiven.
"I celebrate and embrace today only the good memories (of Cronje)," another retired fast bowler, Makhaya Ntini, told the daily.
A special service was held at Cronje's former school Grey's College in Bloemfontein, where a wall of remembrance was erected in his memory.
Photograph: Tertius Pickard/ Getty Images (Touchline/Allsport)