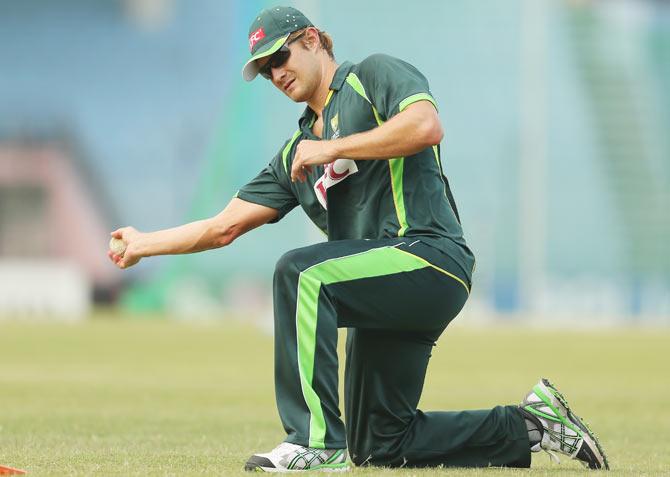 Shane Watson. Photograph: Scott Barbour/Getty Images
Injury-prone all-rounder Shane Watson has been named in Australia's 13-man squad for Twenty20 matches against South Africa next month as he recovers from a calf strain.
The 33-year-old was ruled out of a One-Day International tournament against South Africa and Zimbabwe in August and September after he hurt an ankle stepping on a ball.
A subsequent calf injury then forced him out of the current tour of the United Arab Emirates where Australia won a one-off T20 match against Pakistan and swept them 3-0 in a one-day series ahead of two Tests starting in Dubai on Oct. 22.
"Shane Watson also returns from injury and we certainly know the destruction he is capable of causing in this format of the game," selector Rod Marsh said in a statement upon the release of the squad on Monday.
New captain Aaron Finch will lead a squad which also includes talented young paceman Pat Cummins, who played his last international cricket in a T20 against West Indies in 2012.
All-rounder James Faulkner has been named but may be withdrawn from the squad depending on whether he is required for Australia's Test side against Pakistan.
Australia play their season-opening T20 against South Africa in Adelaide Oval on Nov. 5, followed by matches at the Melbourne Cricket Ground on Nov. 7 and in Sydney on Nov. 9.
Squad:
Aaron Finch (captain), Sean Abbott, Doug Bollinger, Cameron Boyce, Patrick Cummins, Ben Cutting, Ben Dunk, James Faulkner, Nic Maddinson, Nathan Reardon, Kane Richardson, Shane Watson, Cameron White
Australia players given amnesty 'window' to report corruption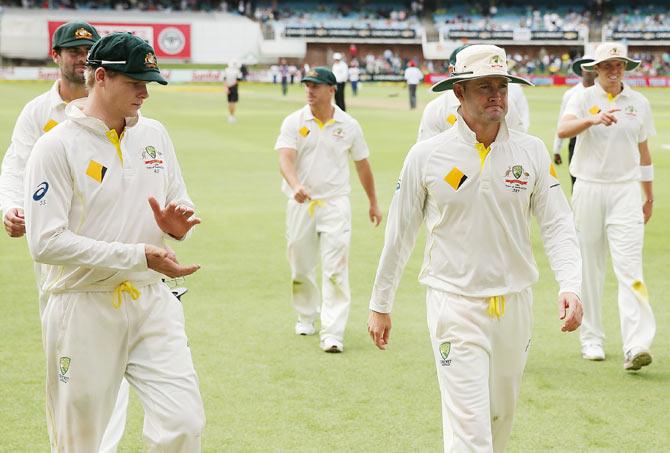 Australian players leave the field (This photograph is used for representational purposes only). Photograph: Morne de Klerk/Getty Images
Australian cricketers will be given an amnesty 'window' until the end of November to report any previous corruption-related information, the country's cricket board said on Monday.
Under Cricket Australia's (CA) anti-corruption code, players and officials can be sanctioned for failing to report a corrupt approach promptly or for failing to disclose information or evidence of a breach by a third party.
But any players who come forward during the amnesty period would avoid sanction, CA said, while adding they had also established a dedicated telephone hotline for players, officials and the public to report corruption-related information.
"We think this is a responsible approach to protecting the game under our jurisdiction. We need to ensure the Australian public has full faith in the integrity of the game and the way it is administered," CA's Senior Manager of Integrity Iain Roy said in a statement.
"We hope that granting a short amnesty period in relation to any previous non-reporting of relevant facts will encourage anyone with information to come forward.
"Facilitating greater sharing of information will assist us in building a more complete picture of the nature and extent of corrupt approaches that may have taken place previously."
Players who fail to report approaches can be suspended for up to five years, fined and ordered to undertake counselling under CA's anti-corruption code.
"While we have a culture of reporting, we think there are still some who are not as forthcoming as we would like," Roy added.
"We encourage players and officials to subscribe to the message that if you see it or hear it, you should report it."
The International Cricket Council has issued bans to a raft of players for corruption-related offences in recent years, including former New Zealand batsman Lou Vincent and former Bangladesh captain Mohammad Ashraful.
Australian cricketers have not been implicated in any recent corruption-related investigations but a number of current players have reported approaches by bookmakers, including all-rounder Shane Watson and paceman Mitchell Johnson.
Cricket Australia, who set up their special integrity unit last year, were condemned for covering up the "Bookmaker John" case in 1995.
Two of Australia's greaTest players, leg-spinner Shane Warne and batsman Mark Waugh, were privately fined for accepting thousands of dollars from an Indian bookmaker to give weather and pitch information -- punishments that were not revealed until 1998.
Australia's Test team are preparing for a two-match series against Pakistan, starting in Dubai on October 22.