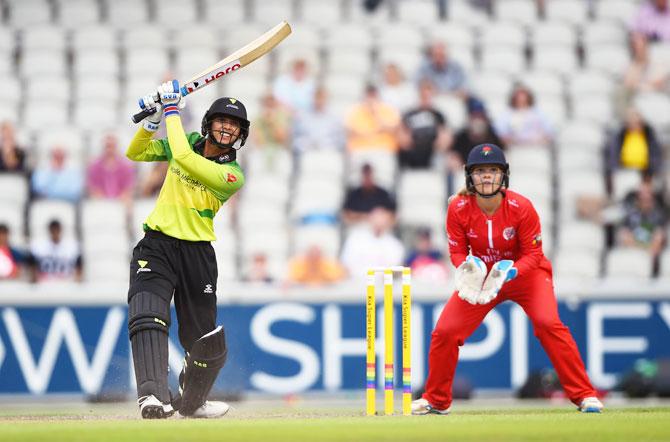 Smriti Mandhana continued her dream run in the Kia Women's T20 Super League, smashing her way to a 60-ball-hundred as she powered Western Storms to an easy seven wicket win over Lancashire Thunder on Friday.
Smriti hit 102 off 61 balls as Storms chased down 154-run target set by the home team in 18.4 overs.
The left-handed opener hit 12 boundaries and four sixes in her innings.
This was her first T20 hundred in franchise cricket while she has five half centuries in T20Is.
Interestingly, Smriti's national team captain Harmanpreet Kaur, failed to open her account for Thunders.
Smriti's sequence of scores in the competition so far has been 48, 37, 52 n.o. off 19 balls, 43 n.o. off 27 balls and 102 off 61. This was the first time she had been dismissed in the tournament having already scored 282 runs. She is now the top run getter in the tournament.
Gambhir to recuse himself from Ranji team interviews; Manhas, Bhatia apply
Gautam Gambhir will recuse himself from all the support staff recruitment interviews for the senior men's team, to be conducted by the high powered DDCA Cricket Committee, with some of his old teammates in the fray.
Gambhir is a special invitee to the committee comprising Virender Sehwag, Aakash Chopra and Rahul Sanghvi.
However, there are likes of Mithun Manhas and Rajat Bhatia, who have applied for the senior team's coach's post. They have played first-class cricket alongside Gambhir for a decade.
"Gautam will not be a part of any Ranji Trophy recruitment meetings as it might lead to Conflict of Interest. However he is expected to play an active part in drawing a blueprint for Delhi cricket. He will very much be a part of recruitment process of U-19, U-16. He wants to have a close look how DDCA is looking after its grassroots programme," a senior DDCA official told PTI today.
While KP Bhaskar has once again applied for chief coach's post, there is very little chance that he would get a third year in the hot seat.
Manhas is an interesting candidate, shortlisted for senior coach's position. He has in fact played under both Sehwag and Chopra and at times even captained them in the state and zonal side.
Manhas was also the batting coach of Kings XI Punjab where Sehwag was head of the coaching staff.
Bhatia on his part has also applied for trainer's post as he has done a certification course.
Manoj Prabhakar has also applied along with outstation candidates like Ajay Ratra (Haryana), Lalchand Rajput and Sulakshan Kulkarni (both from Mumbai).
Hari Gidwani and Vinay Lamba have once again applied for the post of selectors.