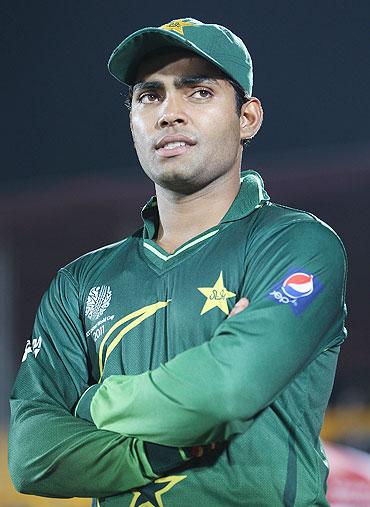 Pakistan cricket's enfant terrible Umar Akmal has been fined 20 per cent of his match fee and has also received an official reprimand following his late night outing in Dubai after the fourth ODI against Australia.
The Pakistan Cricket Board said on Monday that team manager, Talat Ali had held a hearing at which Umar pleaded guilty and also apologised for his actions.
A video clip emerged on social media showing Umar having a late night outing after Pakistan had lost the fourth ODI in Dubai, following which a debate stirred on whether the batsman had shown indiscipline or his personal life should be respected.
The batsman, who has had a history of run-ins with the establishment and disciplinary issues, was recalled for the ODI series against Australia after showing good form in the Pakistan Super League after having spent nearly two-and-half years on the sidelines.
Head coach Mickey Arthur, who had a run-in with Umar in Lahore last year, has said that while Umar's attitude has improved, he needs to work more on his fitness.
PCB Managing Director Wasim Khan said: "I am glad that Umar has realised his mistake and has accepted and apologised for his actions, which were clearly unprofessional and in no way can be ignored or overlooked."
"The PCB expects a high level of professionalism and commitment from its players, and this action is a reiteration and timely reminder that any indiscipline shall not be tolerated or accepted."
Sawhney takes charge as ICC CEO
Media professional Manu Sawhney on Monday took charge as Chief Executive of the International Cricket Council and will work alongside Dave Richardson, who will step down after the World Cup in July.
Former ESPN Star Sports MD Sawhney has already been working alongside outgoing Chief Executive Richardson for the last six weeks to ensure a smooth transition.
Richardson will remain with the ICC until July as originally planned to oversee the delivery of the World Cup in the United Kingdom. Sawhney was appointed in January.
His appointment was ratified by the ICC Board following a global search and appointment process led by the apex body's chairman Shashank Manohar and the Nominations Committee.
"I am absolutely delighted to be taking over the reins from David, who has steered the sport so capably over the last seven years. I am excited by the opportunities ahead and I am looking forward to working in partnership with our Members, partners and staff to ambitiously accelerate the global growth of the game," said Sawhney.
"Technology, engagement, women's cricket and driving greater value are key focus areas for us as we consider how we can innovate to transform the sport's long-term future and create a vibrant and sustainable sport globally," he added.
Sawhney was with ESPN Star Sports for 17 years and was responsible for scaling the business and doubling annual revenues.
He also led the global broadcast partnership deal with the ICC that ran from 2007-2015. He is also a non-executive director and member of the Audit Committee of Manchester United Ltd.
Sri Lanka's Karunaratne apologises after arrest for drink driving
Sri Lanka's test captain Dimuth Karunaratne has apologised for his actions in a drink-driving accident that injured one person in Colombo and led to the cricketer's arrest on Sunday.
The injured driver was later discharged and Karunaratne was released on bail, with Sri Lanka Cricket stating they would conduct their own inquiry into the incident.
"I firstly need to apologise to the owner of the other vehicle who had a few very minor injuries and was absolutely decent in his manner to very amicably sort out the matter directly with me," Karunaratne said in a statement on Monday.
"I... would like to inform all of you that he has been discharged from hospital where he was under precautionary observation and is now resting at home.
"This morning I produced myself in court and did follow the due legal process of Sri Lanka and did abide by all formalities therein required. I shall continue to assist/follow with what ever legal obligations are necessary from my end.
"I'm very much aware that perhaps my actions were utterly unbecoming of a Sri Lankan national cricketer and I do apologise to all of you for this incident."
Karunaratne was Sri Lanka's captain when they became the first Asian team to win a test series in South Africa last month.
New Zealand cancel under-19 tour of Bangladesh after Christchurch shooting
New Zealand Cricket have cancelled their under-19 team's scheduled tour of Bangladesh in the wake of last month's mass shooting at two mosques in Christchurch.
The decision had been reached with agreement of the Bangladesh Cricket Board, NZC Chairman Greg Barclay said in a statement on Monday.
Barclay added that both NZC and the BCB had agreed that proceeding with the April tour would be "insensitive and inappropriate" so soon after the shooting that left 50 people dead.
Several of the victims of the March 15 attack were originally from Bangladesh.
The south Asian nation's senior men's cricket team also narrowly avoided being caught up in the shooting as a number of their players headed to one of the mosques for Friday prayers before the third test against New Zealand.
The third Test, which had been scheduled to start at nearby Hagley Oval the following day, was cancelled and the Bangladesh team left the country.
"We have conveyed our deep sense of regret over the circumstances leading to this mutual decision, and the BCB have been both understanding and generous in response," Barclay said.
"NZC have nothing but respect for the BCB and believe this development has only served to bring our countries closer together, and to strengthen our bond through cricket."