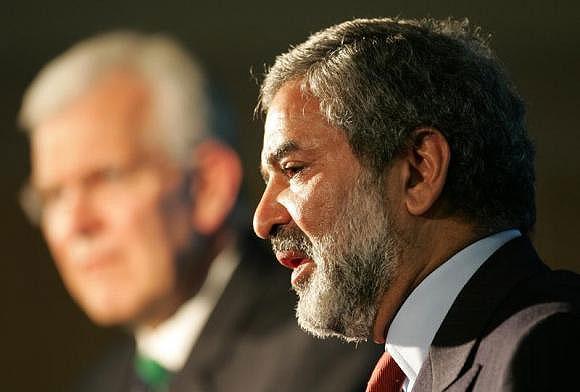 The Pakistan Cricket Board (PCB) is trying to persuade Cricket Australia to play two-match ODI series next year in Pakistan before the World Cup in England.
PCB chairman Ehsan Mani said that the five-match series is scheduled to be held in UAE sometime in late March and early April and PCB was trying to persuade the Australians to play two games in Pakistan.
A PCB official said that the series could be rescheduled as the Australians are keen to play it as close to the World Cup as possible. The World Cup is slated to start from late May in England.
The source said that Pakistan also had a five-match ODI series in England just before the World Cup.
"Since we will be hosting the Australians, we have told them try to play two matches in Pakistan. The process is on but nothing is final as yet."
Australia has not played in Pakistan since 1998.
Australia's top batsmen, Steve Smith and David Warner will also complete their 12-month bans at the end of March and should be playing against Pakistan before the World Cup.
Ehsan Mani said that to persuade top teams to play in Pakistan it was a matter of changing perceptions about the situation in Pakistan.
"Once anyone comes to Pakistan and views the situation by himself, it will not be hard to convince him that international cricket can return to Pakistan properly. But it is not easy trying to change the perception of people who have not been to Pakistan in recent times," he said.
He admitted that Pakistan needed top teams to start visiting again to see the permanent international cricket to the country which has been on a hold since March, 2009 when militants attacked the Sri Lankan team in Lahore.
Since than no touring side has played a full series including Tests in Pakistan and between September 2017 to April 2018 PCB was able to convince teams to come and play short T20 series including a ICC World eleven, Sri Lanka and West Indies.
Mani noted that the Asian Cricket Council annual general body meeting held in Lahore last week was a good step forward for Pakistan cricket as ICC's CEO Dave Richardson was also present and except for India, all the ACC member nations sent their representatives.
'PCB didn't have all ends covered in compensation case'
Pakistan Cricket Board chairman Ehsan Mani admitted that they didn't have all ends covered while claiming Rs 447 crore compensation from the BCCI which is the reason why they lost the arbitration case heard by ICC's Dispute Resolution Committee.
The PCB had claimed a hefty compensation from BCCI alleging that they didn't honour an alleged Memorandum of Understanding where six bilateral series between 2015-2023 was agreed.
The BCCI always maintained that the one page letter signed by erstwhile secretary Sanjay Patel was only a letter of intent and they could possibly have never played without government permission due to prevailing tension between the neighbouring countries.
"It is disappointing. The fact is that before filing the case the PCB had consulted the Queen's counsel lawyers in England and were advised that the claim for compensation was strong and on this basis the PCB went into arbitration and litigation," Mani said.
The former ICC President, however, made the point that there is always a risk involved in litigation.
"When I took over, the proceedings of the case were nearly complete and if we had withdrawn, it would have shown us as weak. But whatever the situation is right now, we have to face it and move on," he said.
Mani replaced Najam Sethi who had spearheaded the move to file the litigation against the BCCI last year based on an alleged MoU.
Mani said personally he believed that ICC member nations should never go into litigation and arbitration and talks were the best options.
"The ICC Disputes Resolution Committee didn't accept the MOU as a legally binding agreement although they say morally India should have played against us. Perhaps the documentation on basis of which we decided to claim compensation was not as conclusive as we felt it was."
Asked about the BCCI official statement that India would now seek costs from Pakistan for the litigation, Mani said since they had won the case it was their right.
"If we had won the case we would have done the same. But we will also be filing for having a look at the costs involved in the case and how it should be shared."
Sethi had got the PCB's Governing Board to approve an amount of one million pounds to cover costs of the litigation, which involved hiring top queens counsel in the UK.
"Nearly 80 million rupees have been spent on the case," a PCB source said.
The BCCI took the stance in the Dispute Resolution Committee hearings that the MOU was signed in return for Pakistan supporting the Big Three governance system and this didn't happen, so there was no question of playing the series.
Mani, however, made it clear that Pakistan would like to maintain its relations with the Indian board on basis of equality and would not beg for resumption of bilateral ties suspended since Mumbai terror attacks in 2008.