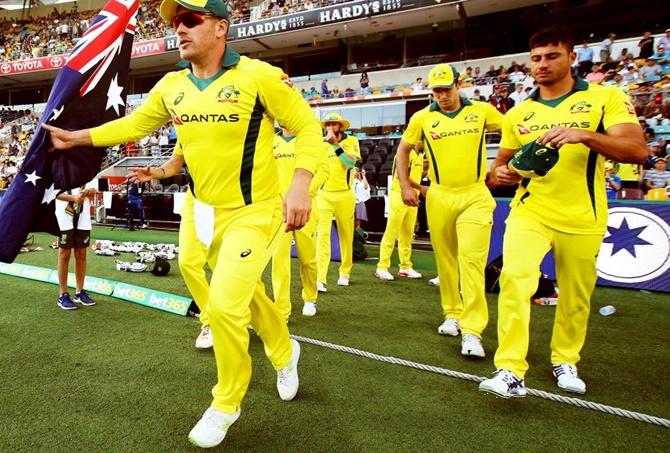 Cricket Australia have signed a four-year agreement with energy provider Alinta Energy, potentially laying to rest concerns over a financial fallout from the ball-tampering scandal in March.
The West Australian company will become the men's national team's shirt sponsor across all three formats for home matches. Financial terms were not disclosed.
"We are delighted to welcome Alinta Energy on board as the principal partner of Cricket Australia, and for them to feature on the playing shirts of the Australian men's cricket team," CA chief executive James Sutherland said.
"Alinta Energy has made a long-term commitment to cricket and the Australian men's team and we look forward to a successful partnership which includes our support of them and their business growth aspirations."
The shirt sponsorship is one of the most visible in Australian sport.
The agreement comes two months after the sport was rocked by a ball-tampering scandal, when captain Steve Smith, vice-captain David Warner and batsman Cameron Bancroft admitted they had conspired to deliberately rough up the ball during the third test against South Africa.
All three were banned for their part in the scandal, coach Darren Lehmann stood down and two independent reviews of the team's culture have also been instigated.
The scandal prompted fund manager Magellan Finance Group to terminate its three-year agreement with CA as the sponsor of the team's domestic series, while the three players all lost individual agreements.
Since the scandal, however, CA signed a new six-year broadcast agreement worth A$1.2 billion with broadcaster Seven West Media and pay television company Foxtel, ending a more than 40-year association with Nine Entertainment.
Hesson replaces Lehmann in Kumble-led ICC Cricket Committee
New Zealand's Mike Hesson replaced Australian Darren Lehmann as the coach representative in the ICC Cricket Committee led by former India captain Anil Kumble.
Lehmann had stepped down as Australia coach in the wake of the ball-tampering controversy in South Africa in March, making him ineligible to be a part of the committee.
Former Australia women's captain and ICC Cricket Hall of Famer Belinda Clark and Scotland captain Kyle Coetzer have also been appointed to the committee, the ICC said in a statement.
Andrew Strauss and Mahela Jayawardena are past player representatives.
Clark has been appointed as the women's cricket representative and replaces Clare Connor (who has completed her third and final three-year term), Coezter has replaced Ireland's Kevin O'Brien as the Associate Members representative (Ireland is now a Full Member, which means O'Brien has become ineligible).
Hesson, 43, has been New Zealand's coach since 2012. He masterminded the Black Caps' maiden appearance in the final of the World Cup in 2015.
All three have been appointed to the committee for an initial three-year term each and next week's annual meeting in Mumbai will be their first meeting.
The Cricket Committee will be meeting in Mumbai on May 28 and 29 to discuss, among other issues, the relevance of toss.
Spirit of Cricket and player behaviour, World Test Championship playing conditions and the pace of play are some of the items on the agenda for the meeting.
The ICC Cricket Committee is representative of all stakeholders in the modern game, including players, umpires and the media.
It is empowered to make recommendations on cricket playing issues to the Chief Executives' Committee (CEC) and, if the matter is a policy matter, the ICC Board for approval.
The ICC Cricket Committee:
Chairman – Anil Kumble (former India captain)
Ex-Officio – Shashank Manohar (ICC Chairman) and David Richardson (ICC Chief Executive)
Past Player representatives – Andrew Strauss (former England captain); Mahela Jayawardena (former Sri Lanka captain)
Current Player representatives – Rahul Dravid (former India captain); Tim May (former Australia off-spinner and ex-CEO of FICA)
Full Member team coach representative – Mike Hesson (New Zealand team coach)
Associate Members representative – Kyle Coetzer (Scotland captain)
Women's Cricket representative – Belinda Clark (Former Australia captain, ICC Cricket Hall of Famer and two-time World Cup winning captain)
Full Member representative – David White (NZC chief executive)
Media representative – Shaun Pollock (former South Africa captain and a respected commentator)
Umpires' representative – Richard Kettleborough (member of the Emirates Elite Panel of ICC Umpires)
Referees' representative – Ranjan Madugalle (ICC chief match referee and former Sri Lanka captain)
MCC representative – John Stephenson (MCC's Head of Cricket).
England director of cricket Strauss to 'step back' from duties
Former England captain Andrew Strauss is "stepping back" from his role as director of cricket while his wife is treated for cancer, the 41-year-old confirmed on Tuesday.
Strauss's wife Ruth was diagnosed in December and is entering a new period of more demanding treatment.
Speaking in a video on the England and Wales Cricket Board's Twitter account, Strauss said he would be temporarily replaced by former England coach Andy Flower.
"He will keep a very steady hand on the tiller while I am away," Strauss said. "I need to step back and look after my wife and the family for a period of time."
England face Pakistan at Lord's on Thursday in the first test of the summer.