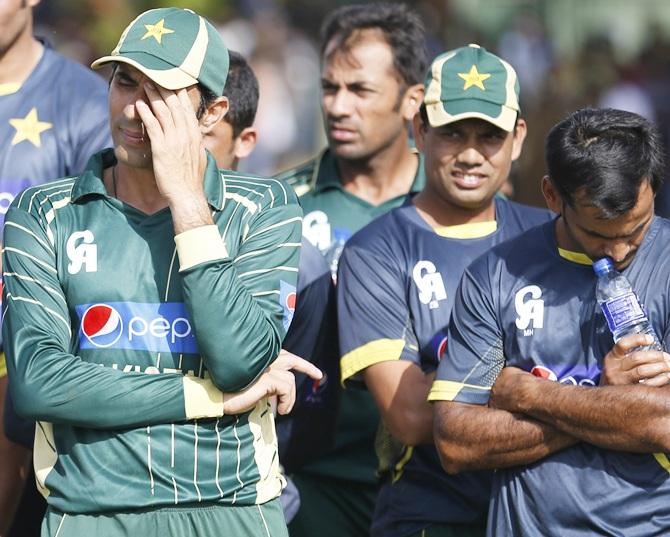 Pakistan's captain Misbah-ul-Haq, left, and his teammate Mohammad Hafeez react. Photograph: Dinuka Liyanawatte/Reuters
The trouble-prone Pakistan cricket team dressing room was once again witness to some drama and it took PCB Chairman Shaharyar Khan's intervention to diffuse the controversy generated by Misbah-ul-Haq's decision to rest from the third ODI against Australia.
Khan had to talk to the media in Abu Dhabi during the third ODI to defuse the impression that Misbah had been coerced or pressurised into not playing the third ODI by the team management, which is totally behind Shahid Afridi.
Although Misbah took pains to make politically correct appearances during the match to give the impression that everything was alright in the dressing room but former players still didn't spare the PCB for its sudden decision to hand over the captaincy to Afridi.
After Pakistan lost the match, former fast bowler Shoaib Akhtar waded into head coach Waqar Younis and even manager/chief selector Moin Khan and the PCB for even accepting Misbah's wish to take a break.
"What is happening? What sort of message is being conveyed to the cricket world? Four months before the World Cup, we don't know who is going to be our ODI captain. The PCB and management is only adding to the confusion with their strange statements," Akhtar said.
Former Test captain, Rameez Raja said if Misbah wanted to rest, a younger player should have been given charge of the team instead of Afridi.
"We all know how Afridi leads the side and making him captain at such a short notice only confused things further," he said.
Moin Khan, who has made no secret of the fact that he favours Afridi for the ODI captaincy, also gave out a statement insisting it was Misbah's decision to rest from the match.
"No one forced him and he remains captain for the coming Tests and other matches in the future," Moin said.
Shaharyar also said that Misbah was not forced to sit out.
Vettori named in New Zealand squad for Scotland game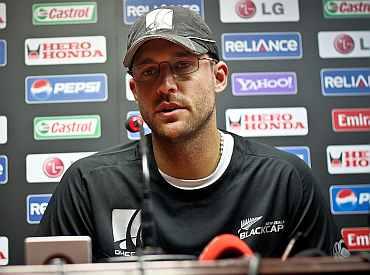 Daniel Vettori during a press conference. Photograph: Getty Images
All-rounder Daniel Vettori has raised hopes of a full return to international cricket after being named in a 12-man squad for New Zealand's one-dayer against Scotland on Wednesday.
The 35-year-old had surgery on his left Achilles in June 2013 and has not played a match for New Zealand since taking on England in a 50-over match in Cardiff in the same month.
One of the most economical bowlers in limited-overs cricket and a handy lower-order batsman, the left-arm spinner has restricted himself to T20 tournaments in Australia and the Caribbean but hopes to play a part in next year's World Cup on home soil.
The New Zealand squad released on Monday for the match at Lincoln Oval also includes captain Brendon McCullum but regulars Ross Taylor, Tim Southee and Kane Williamson will be rested.
New Zealand also play World Cup qualifiers Ireland on Saturday in a warm-up for their one-day series against South Africa starting Oct. 21.
New Zealand squad: Brendon McCullum (captain), Corey Anderson, Dean Brownlie, Martin Guptill, Matt Henry, Tom Latham, Mitchell McClenaghan, Nathan McCullum, Kyle Mills, Colin Munro, Luke Ronchi, Daniel Vettori.