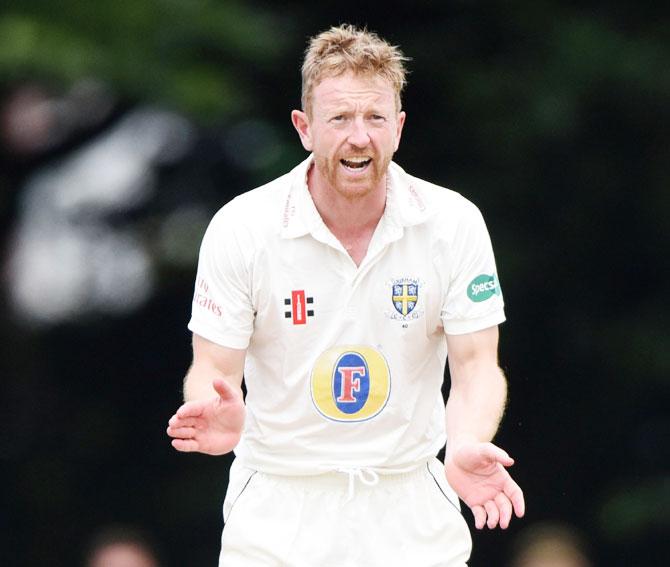 Former England captain Paul Collingwood will retire from professional cricket at the end of the current season, his CountyChampionship side Durham announced on Thursday.
Collingwood, 42, became the first England captain to win a trophy at a global tournament when he guided them to the ICC World T20 in 2010. He was part of three Ashes series wins over Australia before retiring from international cricket in 2011.
"I knew this day would eventually come but it hasn't made it any easier -- although it's an emotional decision, I know that the time is right and I'm comfortable knowing that I have given every last ounce of energy to the sport," Collingwood told the club's website.
"I have achieved so much with both Durham and England, far more than I ever imagined and I feel extremely privileged to have had such a long and rewarding career
"I am excited about what the future holds for me and am looking forward to new challenges."
Collingwood scored close to 17,000 runs in first-class cricket since making his debut 22 years ago.
He made 4,259 runs in 68 tests and will play his final game against Middlesex starting on September 24.
Bayliss confirms nervous wait for Jennings ahead of Sri Lanka tour
England opener Keaton Jennings faces a nervous wait to know if he is part of their plans for next month's tour of Sri Lanka but his ability on spinning wickets could work in his favour, coach Trevor Bayliss has said.
Jennings averaged just over 18 in their recent 4-1 series victory over India and has not scored a test century since his debut knock in Mumbai in 2016.
"I'm sure he will be a bit nervous about which way it will go. He scored runs in India on spinning wickets and I'm sure that will be in his favour," Bayliss told the British media.
"But he is a big boy, he knows runs on the board count as well. All of those points will have to be discussed and I can't say at this stage or another whether he will go or not."
England, who will be without Alastair Cook after the 33-year-old retired as their most prolific scorer in tests, are expected to name their squad next week.
England will play five one-dayers and a Twenty20 International in Sri Lanka before the three-test series gets underway on November 6 at Galle.
Bihar Cricket: U-23 selector 2 months ago, now picked for Vijay Hazare Trophy
Making a comeback after 18 years, Bihar cricket straightaway found itself in the midst of a controversy, with the state body picking an U-23 selector in the senior squad for the Vijay Hazare Trophy.
While there are a number of allegations of conflict of interest with regards to the senior team that will be led by out-of-favour India spinner Pragyan Ojha, the selection of Ashish Sinha has raised quite a few eyebrows.
The 28-year-old Ashish, who is the son of MLA (Patna Central) Arun Kumar Sinha, had played one Ranji Trophy match for Jharkhand against Rajasthan in 2010, scoring 16 and 12 in both innings.
However, as per documents in possession of PTI, Ashish was appointed as one of the selectors in June for the U-23 state team trials, which was conducted by the Bihar Cricket Association (BCA).
In fact, on June 8 this year, he performed the duties of an U-23 zonal selector for districts Katihar, Araria, Bhagalpur, Kishangunj, Purnea, Banka and Jamui.
When Ashish was contacted, he admitted that he was indeed doing U-23 selection duties and is now getting ready to play in the Vijay Hazare Trophy.
"Yes, I was made the selector but I have now quit the post. Also I was selector for a brief period and there was no official appointment letter. I became a selector on request of BCA," Ashish told PTI on Thursday.
Asked about the allegations that his selection in the state senior team is due to the influence of his father, Ashish vehemently denied.
"Let me tell you that when I played Ranji Trophy for Jharkhand, my father was even then an MLA. So how does it matter? I am still playing active club cricket. Obviously with Bihar coming back into domestic cricket, I wanted to play for the senior team. We should all be proud that Bihar will again play Ranji Trophy rather than try to malign players," Ashish said.
Bihar Cricket Association president Gopal Bohra also defended Ashish's selection, downplaying allegations of corruption and nepotism.
"It was a temporary selection committee and Ashish was a part of that. He is a good cricketer. Also when we are coming back in the Ranji Trophy after nearly 18 years, we need some experience apart from our captain Pragyan Ojha. Ashish has experience of playing Ranji Trophy (1 match) and is a senior player. So he was picked," Bohra reasoned.
"And talking about being a politician's son, these are baseless allegations. We know that there are thousands of aspirants for all age group and senior teams but only 15 can play. A lot of people may feel heartbroken and make unnecessary allegations," Bohra said.
There is another specific allegation of conflict of interest against a player called Ishan Ravi, whose father Ravi Sinha has been the chairman of the BCA's tours and fixtures committee.
"Ravi Sinha was the chairman of a committee that has already been dissolved as we have adopted the new constitution and accordingly we will form new sub-committees. Yes, Ishan is son of Ravi Sinha but he doesn't have any influence in selection matters so Conflict of Interest does not arise," Bohra said.