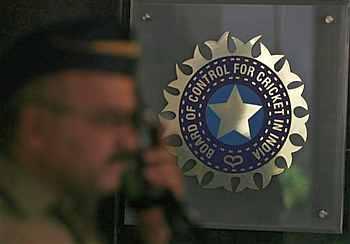 The BCCI will hold its Special General Meeting (SGM) in New Delhi on December 1 to discuss a three- point agenda including the all-important Future Tours Programme (FTP) of the Indian team spanning 2019-2023.
India is likely to tour New Zealand in early 2019 and it will be interesting to see if a series with Pakistan is slotted in that five-year period.
On the instructions of Committee of Administrators (COA), acting President CK Khanna has summoned the SGM to also discuss revocation of Rajasthan Cricket Association (RCA) and compensation claim of former IPL franchise Kochi Tuskers Kerala.
"We checked the availability of all the office-bearers of the affiliated units and decided on December 1. Accordingly, I have instructed the acting secretary to issue a notice," Khanna told PTI.
The SGM will be the forum where Kochi Tuskers' compensation claim of Rs 850 crore will be discussed.
The IPL governing council few days ago discussed the issue threadbare and were of the opinion that it would be impossible to wriggle out of the mess without paying the penalty.
The Kochi franchise was terminated by the BCCI for breach of contract but an arbitration panel led by former CJI RC Lahoti ruled in favour of the franchise as it ruled the termination to be illegal.
MSK Prasad & Co get extension till AGM
The BCCI has decided to give extension to the three-member national selection committee headed by MSK Prasad till the next Annual General Meeting (AGM).
It has been learnt that Prasad and Co were given temporary extension as the date of the AGM is yet to be finalised.
"Yes, senior national selection committee has been handed over a temporary extension. Now the tenure of that cannot be ascertained as no one knows when the AGM will be held," a senior BCCI official told PTI on conditions of anonymity.
Normally, selectors' contract is renewed every year.
It starts from September 1 of particular year and ends on August 31. However, in the current scenario where Committee of Administrators (COA) is in charge, the AGM is yet to be held as hearing is still on in Supreme Court.
"Till Supreme Court passes the final order and the Lodha Constitution is formally adopted at the AGM, no decision can be taken.
"Since September, the selectors were out of contract. As per norms, selection committee can only be changed at the AGM. So we have to continue with this current lot as of now even if it means the extension is for a few months," the official further added.
The three-member selection committee headed by former stumper Prasad also comprise Sarandeep Singh and Devang Gandhi.
While the committee initially drew a lot of praise for its clear thought process, of late they have drawn flak when they announced that Ravichandran Ashwin and Ravindra Jadeja were rested from limited overs series against Sri Lanka.
During the "rest", Ashwin played four County and three Ranji Trophy games.
Subsequently, Ashwin was not picked for the Australia and New Zealand limited overs series, making it clear that he is no longer primary choice.
In another instance, recently retired Ashish Nehra in a media conference contradicted Prasad's claim that the senior pacer was told that he was being considered only for the New Zealand T20.
There are questions raised about Sarandeep's contribution as one senior BCCI official is pretty unhappy with his performance as a national selector.
TA Sekar steps down as Director of Delhi Daredevils
Indian Premier League (IPL) franchise Delhi Daredevils director TA Sekar on Thursday stepped down from his post due to personal reasons.
Delhi Daredevils chief executive Hemant Dua confirmed that the former India fast bowler, who was associated with the team since its inception, will no longer be a part of the franchise.
"We respect Sekar's decision. We are naturally very disappointed to not have Sekar in our midst going forward, but as a franchise we clearly understand his position," Dua said in a statement.
"Sekar was an invaluable asset to the franchise and his departure leaves a vacuum that will be difficult to fill," he added.
Sekar said he was extremely humbled by the support accorded by the GMR Group.
"It has been a very difficult decision for me to make, but it was for purely personal reasons. I am grateful for the support and understanding from the franchise. It has been an absolute privilege being part of the franchise since its inception in 2008," Sekar, who played two Test matches for India in 1982-83, said.
Pakistan's Hafeez suspended from bowling in internationals
Pakistan off-spinner Mohammad Hafeez has been suspended from bowling in international cricket with immediate effect after the ICC found his action to be illegal, the sport's governing body said on Thursday.
Match officials reported Hafeez in last month's third one-day international against Sri Lanka.
"The assessment revealed that the majority of his deliveries exceeded the 15 degrees level of tolerance permitted under the regulations," the International Cricket Council said in a statement.
Hafeez, 37, has been suspended on two previous occasions for the same offence and served a 12-month ban from July, 2015 after his action was found to be illegal for the second time in a two-year period.
Photograph: Arko Dutta/Reuters