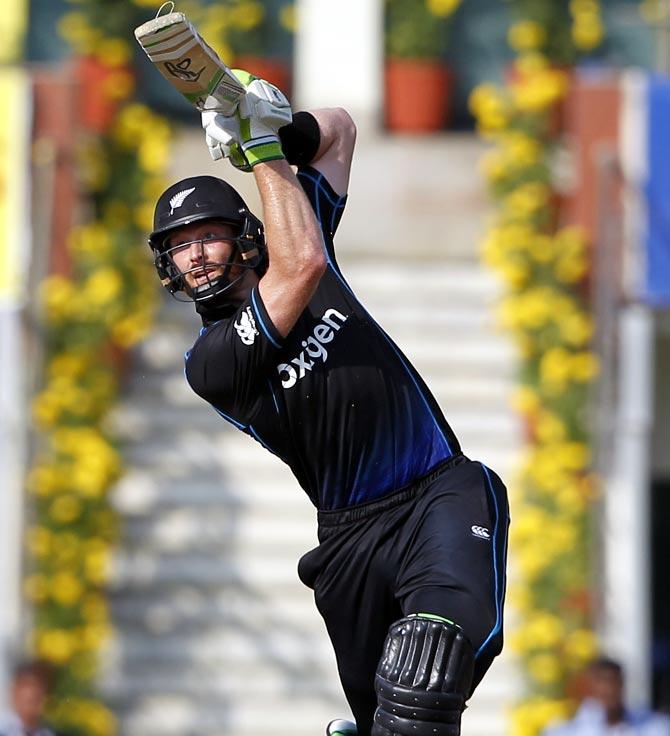 IMAGE: Martin Guptill hits out. Photograph: BCCI

After his half-century helped New Zealand register a series-levelling 19-run victory over India opener Martin Guptill said the conditions were tough for batting once the ball lost it's shine.

Guptill, who hit 72 from 84 balls, set the platform for New Zealand as they posted 260 and then bowled out India for 241 in 48.4 overs to win the fourth ODI, in Ranchi, on Wednesday.

"It wasn't as fluent as I would have liked. But at the end of the day, I will take 72 any day of the week. It was tough," the senior New Zealand opener said.

"Early on the ball came on bit more and you were able to hit through the line bit better but once the ball became a bit softer the scoring became a lot tougher and you had to work for your runs, you had to grind it out a wee bit. I was happy to get through that little period."

Guptill hit 12 boundaries in his 84-ball innings to match his score in the third and final Test in Indore and he said that is his style of play.

"It's just the way I've played my one-day cricket in the last one year to 18 months. I enjoy hitting the ball over the top when I can. So I just tried to make use of the hard ball when it was hard and I got away with it today," he said.

Guptill said opening the innings is the toughest place to bat.

"As an opener you're going to get a ball, you're going to nick off early on and things like that happen. But you know you just got to fight through that because you're going to come out the other side, you can score some runs," he said.

The pressure is back on hosts India with the series locked 2-2 ahead of the final one-dayer in Visakhapatnam on Saturday and Guptill said a win would boost their confidence.

"The last game in Mohali I started to get some old touch back and today while I wasn't as fluent as I would have liked you know I was able to bat for a period of time," he said.

"So going forward to Vizag hopefully I can spend a bit more time in the middle and then create a few partnerships with the guys I'm batting with. Hopefully we can score some big runs."

"Everyone fought right to the end. The bowlers did a fantastic job today up front getting rid of Rohit (Sharma) early and then they had a partnership together and Ish (Sodhi) came on and broke that," he said about Kohli's dismissal, who was caught behind for 45.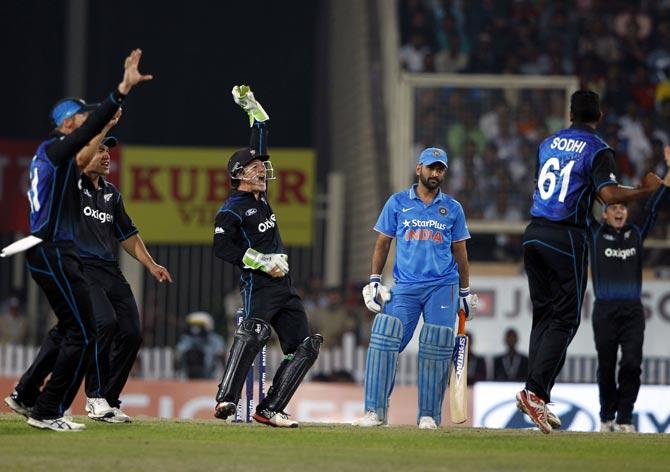 IMAGE: New Zealand's players appeal unsuccessfully against Mahendra Singh Dhoni. Photograph: BCCI
Showering high praise on their spinners, Guptill said: "I think the way Ish and Mitch Santner bowled today was top draw and absolutely world class bowling to arguably the best players of spin in the world. The wickets suited them and the boys bowled really well and fielded extremely well as well."

It was a good toss to win for the New Zealand skipper Kane Williamson, who called the coin right for the first time in India, after losing six straight tosses.

Guptill said he was not aware of Williamson's idea to bat first untill he saw it.

"To be honest, I'm not actually privy to that information. So I've just got to go out there and find out if we're batting or bowling," he said.

"I think in the end it was the right decision. I think we saw how the pitch played. It was a lot easier to score when the ball was a bit newer. The ball getting a bit older and bit softer, scoring became a bit tougher. So at the end of the day it was a great call."

Lower down the order, Axar Patel (38) and Amit Mishra (14) revived India's hope briefly with a quickfire 38-run stand for the eighth wicket before the latter's run out saw India slump once again.

"It got a little bit close but at the end of the day we were still a little bit ahead. Having 10 and 11 to score 50 to win a game is a big ask and I think the way our guys bowled and the way we were able to restrict them when we needed to and get that run rate up and as I said we were always ahead of the game. So it was a fine performance from our bowlers."