T E Narasimhan reports that Tamil Nadu cricket association conducted formal bid process to select 8 franchisee owners, raising Rs 33 cr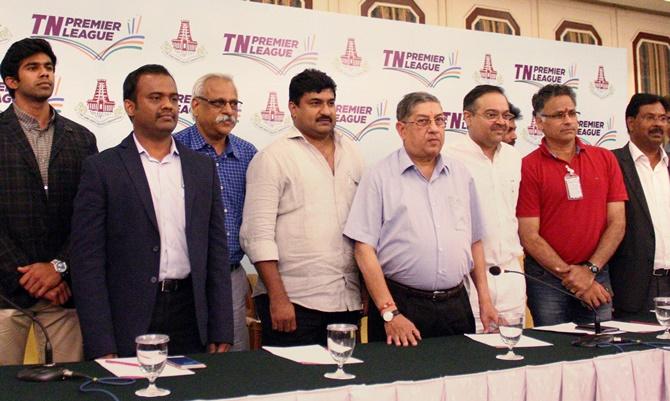 IMAGE: Tamil Nadu Cricket Association (TNCA) President and former BCCI chief N. Srinivasan, centre, along with franchisee bidders of TNPL speaks with media persons after the launch of Tamil Nadu Premier League in Chennai. Photograph: PTI.
Tamil Nadu will have its own 20-overs cricket tournament, modelled on the likes of the cash-rich Indian Premier League.
To be called the Tamil Nadu Premier League (TNPL), it will begin from the fourth week of August, stretching till the second week of September. Star India will be the official telecaster, in Tamil and English.
While Karnataka has a state league, TNPL will be mounted on a larger scale, said N Srinivasan, president, Tamil Nadu Cricket Association. "We conducted a bidding process for the league and are happy with the outcome," he said. "The bids were 3.3 times the minimum bid amount."
The total amount at the end of the bidding process was Rs 33 crore for eight franchisee teams, apparently the highest amount raised by a state cricket body; 17 entities participated. The winners were Take Solutions, a listed entity; Metronation Chennai Television, part of a major media group in the state; Lyca Productions; Kothari (Madras); Ruby Builders and Promoters; VB Cricket Academy and Chettinad Apparels. A majority of the bidders have already selected the districts for the venues.
Player drafts will be held at end-July and may be retained up to three years. This year would see 27 matches; the eight teams would be pooled into two groups of four each. Each team would get to play a minimum of six matches. The players will be from Tamil Nadu and TNCA will approach the Board of Control for Cricket in India on whether the latter would allow players from other states to participate.
The prize is fixed ar Rs 1 crore for the winner, Rs 60 lakh for the runner-up, Rs 40 lakh for the losing semi-finalists and Rs 25 lakh for the remaining four teams, said Srinivasan. TNCA expects, he said, to get Rs 350 crore through TNPL over the next 10 years. This state league would enable TN players to show their talent and rub shoulders with national and international players. Beside promoting cricket at the district level in a big way, said Srinivasan.
The matches will be played in Chennai, Tirunelveli and Natham (near Dindigul).