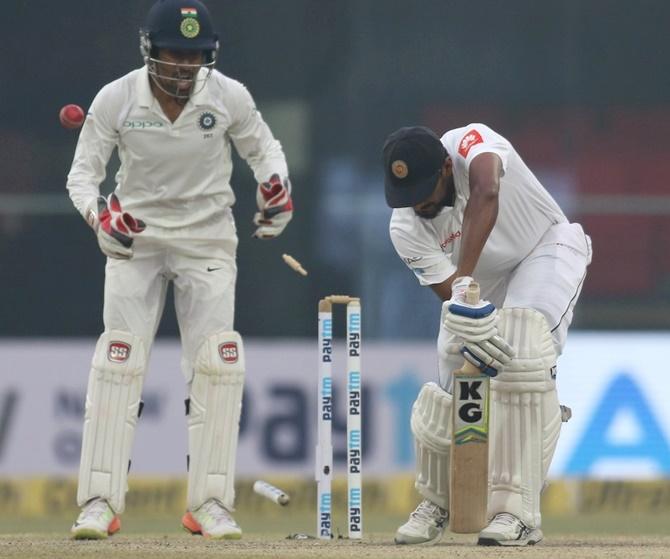 IMAGE: Sri Lankan coach Nic Pothas said that he backed the umpire's decision to take out light meters. Photograph: ICC/Twitter
In both the innings during this Test match, Sri Lanka have lost a wicket to a pacer in fading light, prompting the umpires to check light, after which the spinners struck twice.
Sri Lanka coach Nic Pothas, on Tuesday, wondered if this was a 'mere coincidence' while making it clear that he backed the umpire's decision.
On Monday, during the final session, Sadeera Samarawickrama, who was well-set at that point, was dismissed by Ishant Sharma.
The umpires immediately found the light not good enough for pacers to continue and spinners were employed by Virat Kohli. Ravichandran Ashwin quickly disposed off debutant Roshan Silva and Niroshan Dickwella in quick succession, making it 322 for seven from a comfortable 317 for four.
On Tuesday, it was Shami, who got Samarawickrama with a bouncer and after that Ravindra Jadeja inflicted struck twice in fading light.
"It was not ideal to lose three wickets. I am wondering whether it's a coincidence that we lose a wicket to a seam bowler and all of a sudden the light turns bad and we lose two more wickets to spin. It just comes off bit of a coincidence, I would have thought," Pothas said.
Probably not wanting to fall foul with the match referee, Pothas then said that he backed the umpire's decision to take out light meters.
"I am sure the light meter is absolutely spot on. I have no doubt but to me it looked too much of a coincidence to lose a wicket and to find that suddenly it's too dark for the seamers!
"And then, we lose two wickets to spin and then it's too dark and we are off. Can it deteriorate that quick? I don't know. There is nothing to discuss. I back there decision," the interim coach said a lot without revealing much.