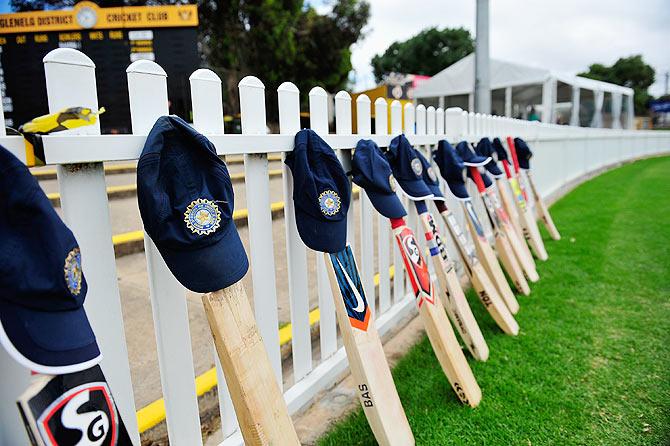 This image is used for representational purposes. Photograph: David Mariuz/Getty Images
Tragedy struck Indian cricket on Monday when a 20-year-old player died as a result of a freakish on-field collision with a team mate during a club match in Kolkata.
Four months after Australia cricketer Phillip Hughes died after being hit by a bouncer, Ankit Keshri, a former captain for his state's under-19 team, battled for three days before passing away at a Kolkata hospital.
The incident happened at the Salt Lake ground during a one day match between local giants East Bengal and Bhowanipore club.
"It's so unfortunate. He was such a promising cricketer and for him to pass away in such a manner is difficult to swallow," Subir Ganguly, the joint secretary of the state's cricket association, told Reuters.
Keshri, a right-handed batsman and leg-spinner, came on as a substitute fielder for his club and collided with a teammate as both players went for a high catch.
"Fielding at sweeper cover, Keshri rushed to take the high catch as left-arm pacer Sourav Mondal too ran on his follow through. It was as freak an accident as possible," Bengal A coach Jaideep Mukherjee, who was present at the ground, said.
Keshri briefly lost consciousness but was resuscitated by a teammate, following which, he was rushed to hospital.
According to doctors, Keshri's condition was stable but he suffered a cardiac arrest around midnight on Sunday and died early on Monday morning, officials of the state association said.
"There was no external injury but Keshri fainted as fellow mates Anustup Majumder and Shiv Sagar Singh resuscitated him. He gained some consciousness and was rushed to nearby AMRI. From there he was admitted to Nightingale Hospital," Mukherjee further added.
"I am not in a position to speak. I am feeling devastated and I don't know what his parents must be going through. His body will be brought to East Bengal tent before being taken for last rites," a distraught CAB joint secretary Subir Ganguly said.
In fact, the veteran official returned from Kolkata airport even though he was supposed to reach Delhi in the afternoon for the Indian Premier League governing council meeting.
"I am not in a mental frame of mind to attend any meeting," the joint secretary said.
India A captain Manoj Tiwary was equally devastated.
"I did not want to get this news. A fine young talent who should have played Ranji Trophy in a year or two… I am told he suffered cardiac arrest in the morning. A 20-year-old suffering heart attack after scans showed that there was not hemorrhage," said Tiwary, who would be playing an IPL match for Delhi Daredevils against KKR, in Delhi on Monday.
In November, Hughes passed away at the age of 25, two days after he was struck in the neck by a bouncer with the incident sparking a massive outpouring of grief across the world.