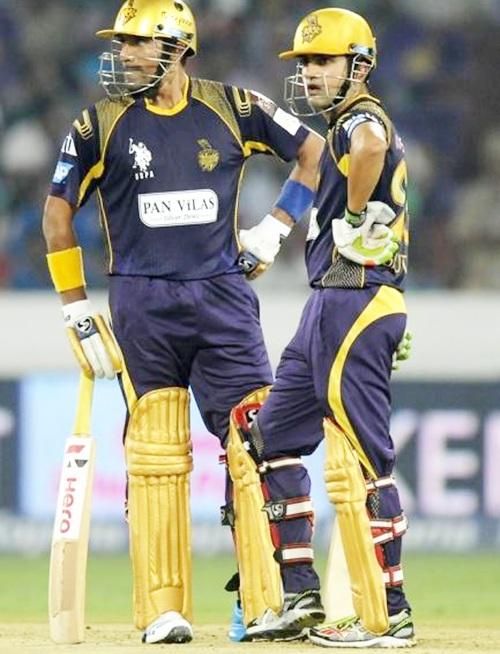 Robin Uthappa, left, and Gautam Gambhir, captain of Kolkata Knight Riders during the Champions League Twenty20 match against Lahore Lions. Photograph: BCCI
Kolkata Knight Riders skipper Gautam Gambhir chose not to be harsh on his fielders, who missed chances galore in Sunday's Champions League Twenty20 contest against Lahore Lions, saying the team has worked hard in its impressive 11-match winning streak.
- Gambhir, Narine guide Kolkata to easy win over Lahore
Gambhir also played down his match winning knock saying it was imperative for him and Robin Uthappa to provide a good start in a chase of 152.
"It was important that the openers give a good platform. It made it easy for the middle order. It was the middle order that won us the last game. Robin took his time and later played good shots," he said.
KKR's wicket-keeper Manvinder Bisla missed two stumping chances and then Sunil Narine missed Ahmed Shehzad's catch chance, allowing the Lions opener score 59.
"I do not want to be too critical about the fielding. We have won 11 matches in a row which is a great achievement," Gambhir, who guided the side home with his 60-run knock said.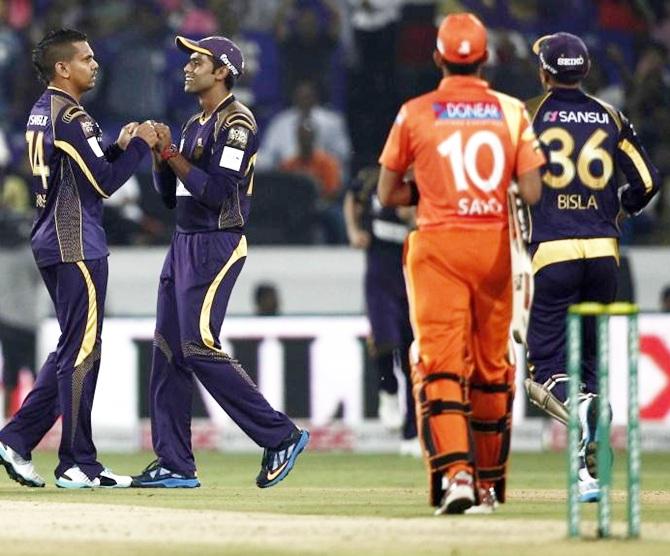 Sunil Narine, left, of the Kolkata Knight Riders celebrates the wicket of Saad Naseem of the Lahore Lions. Photograph: BCCI
Sunil Narine, who took three wickets and gave away just nine runs in his four overs, was declared Man of the Match.
Asked about his consistent success, the Caribbean spinner said, "Mainly it is trying to keep down the run rate in the Powerplay and hopefully pick up a wicket or two."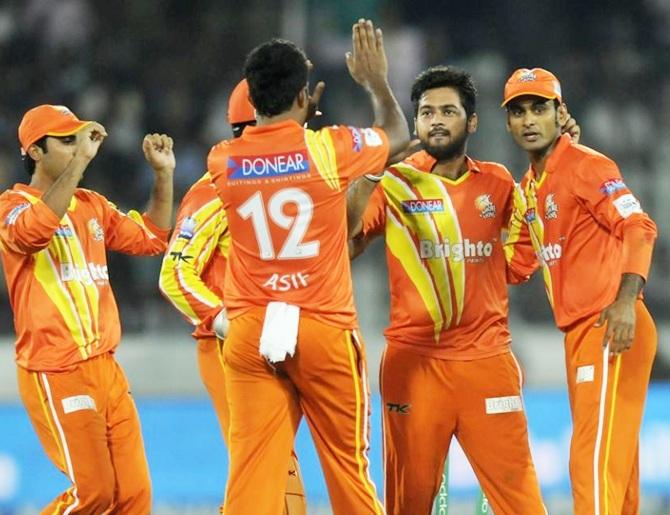 Mustafa Iqbal of Lahore Lions celebrates the wicket of Gautam Gambhir. Photograph: BCCI
Lions skipper Mohammed Hafeez said they had a defendable total on the board but blamed it on fielders.
"We got the 150 target but our fielding was not up to the mark. We did not take some chances. Yet, it was a good show and youngsters have been learning in every game. We have to give them the confidence. Shehzad was magnificent," he added.