Highveld Lions' seamer Sohail Tanvir cited lack of experience as the reason for his team's defeat at the hands of Rajasthan Royals.
"We lack the experience. The youngsters are not used to playing under pressure in such an atmosphere. Perhaps we gave the Royals 15-20 runs more," said Tanvir after Lions' 30-run loss to Royals in their Champions League T20 match in Jaipur on Wednesday.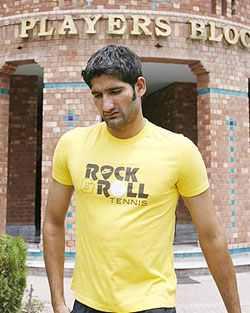 "Moreover, Brad Hodge was picking everything we threw at him. It was fine innings and overall the hosts batted well, and the credit goes to them. They had few big overs but we didn't have any," he added.
Rajasthan, riding on Hodge's 23-ball-46 reached 183 for five in 20 overs, and then restricted the Lions to 153 for nine in 20 overs.
The Lions are placed second-last in the Group A table and Tanvir said his team was in a do-or-die situation now.
"With one game washed out and one bad loss we know that we and Mumbai Indians are in a do-or-die situation," he said.
The Pakistani pacer, however, insisted that the Lions' batsmen would be better equipped as compared to Mumbai Indians on the hard and bouncy Jaipur pitch when they take on each
other in Japur on Friday.
"The clash against the IPL 6 champions Mumbai has been shifted to Jaipur from Ahmadabad and I am happy about it because the Jaipur pitch gives a chance to both batsman and bowlers.
"Our batsmen are used to playing on hard and bouncy wickets, which offer movement. I feel we would be better equipped on this surface," said Tanvir, who has also played for Rajasthan Royals.
Asked about injured Neil McKenzie, Lions' experienced middle-order batsman, Tanvir said, "Hopefully McKenzie will recover soon and lend solidity to the middle order. He is expected to get fit soon."