Sri Lankan pacer Lasith Malinga, on Thursday, backed his Mumbai Indians team-mate Sachin Tendulkar's idea of revamping the ODIs, by splitting 50 overs into four innings and said it will give bowlers a chance to reverse swing the ball quite often and negate batsmen's advantage.
"I am bowler and I did not like personally the change of ball in the 34th over as per the existing 50-50 match rule. If they play four innings, they will be changing the ball more times. Also, we have chance for reverse swing only after 15 or 20 overs. But, if they cut down that possibility, all the favour is going to a batsman," Malinga said.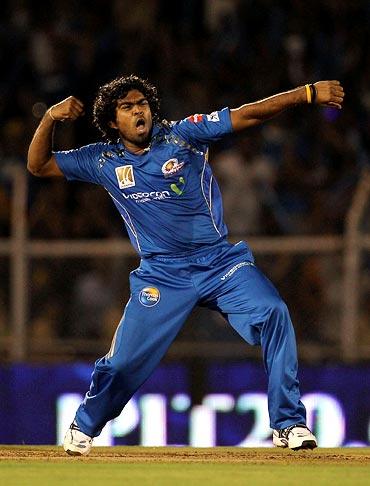 Tendulkar had written a letter to the ICC, to change the format of the ODIs from two innings of 50 overs to four of 25 overs each like a Test match but the world body's chief executive Haroon Lorgat had rejected the idea.
Malinga, who is in India to represent his IPL team Mumbai Indians in the Champions League Twenty20, said his team is not under any pressure as they take on Chennai Super Kings in their tournament opener on Saturday.
"We always try to perform to our strength during a match and the result come at the end of the day. All the players in the Mumbai Indians team will be performing to their strength and that is it.
"We do not have any pressure. I think we know our abilities and trust our abilities. We have lot of young players but some have not played much of T20 matches. But, we have good senior players in our team. They have always supported young players," Malinga said.
"While playing for Mumbai Indians I have always tried to take wickets. It does not matter whether it is in early overs or fag end of the match.
"I get only four overs and I try to take wicket with every delivery. Sometimes, I take wickets early and sometimes in the later part of the match. Most important thing is how you can use your abilities," Malinga added.
He said he always tries to sharpen his toe-crushing yorker during the practice sessions.
"In my practice sessions I try the technique of yorking the batsmen. If you want to do something in a match, it is important to try and master that at the nets," Malinga said.