Captain Gautam Gambhir will miss the qualifying matches of Kolkata Knight Riders' Champions League T20 campaign on September 19 and 21.
The India opener, who was ruled out of the five-match One-Day International series against England because of blurred vision due to mild concussion, after his head hit the ground while attempting to take a catch in the fourth and final Test at The Oval, is being treated by a leading neurologist in New Delhi since returning from England.
While the doctor is happy with the progress Gambhir has made, the batsman has been advised to start physical training gradually to attain match fitness.  The doctor's view is that September 19 is too early for him to be fully fit.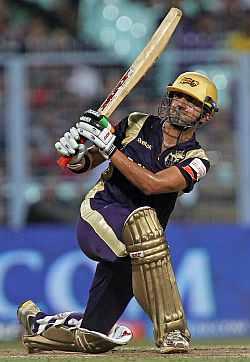 A statement from the franchise read, "However, subject to KKR qualifying for the league phase of CLT20 and Gambhir attaining full fitness, he will participate in the league phase."
KKR CEO Venky Mysore said the decision to play was completely left to Gambhir and his doctors and he is hopeful of him making a quick return to the game.
Kolkata Knight Riders coach Dav Whatmore was also supportive of the batsman's decision, saying the team's support staff will do its best to help and hasten Gambhir's recovery.
In Gambhir's absence Jacques Kallis will lead the side.