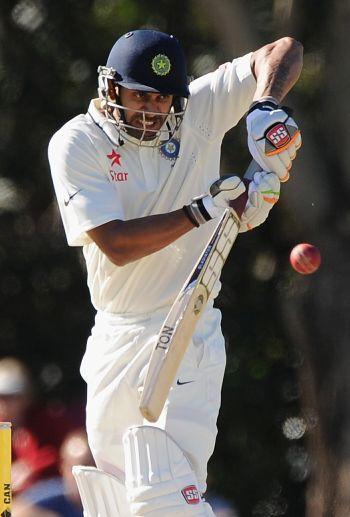 Manoj Tiwary, one of India's 30 probables for the 2015 World Cup, had a close shave after being hit by a rising delivery from Abhimanyu Mithun on the final day of Bengal's Ranji Trophy match against Karnataka at the Eden Gardens on Wednesday.
Bengal's premier batsman, facing the first ball of the 38th over, took his eyes off Mithun's bouncer and was hit on the back of his helmet, much to the horror of the visiting Karnataka players.
In a state of shock, all the players, including Mithun, rushed up to Tiwary from the High Court end even as the Bengal physio also came in to assist.
Thankfully, unlike in Australian batsman Phil Hughes's case, the ball hit Tiwary's brand new white helmet, which cracked under the impact, forcing a replacement.
Tiwary incidentally had opted for a white helmet but after the hit wore his blue one.
The stylish Bengal number four, who was on two from 10 balls, resumed his innings as skipper Vinay Kumar brought himself on in place of Mithun in the next over.
He did not last long at the crease as Vinay Kumar bowled him for 4 off 21 balls.
The experienced batsman was soon rushed to hospital for an MRI as a precautionary measure.
Bengal skipper Laxmi Ratan Shukla later said there is nothing to worry and Tiwary is perfectly fine.
"By God's grace, nothing has happened; he's doing fine. MRI report was normal and he'll be back in action in two days' time," said Shukla, after Bengal lost the match by nine wickets.
Earlier in the tournament, Gujarat batsman Bhargav Merai was hit on the helmet by a Biplab Samantray short ball in a Ranji match at Tangi, Cuttack.
Image: Manoj Tiwary
Photograph: Matt Roberts/Getty Images