England wicketkeeper-batsman Jos Buttler sees nothing wrong in cricketers wanting to specialise in a particular format.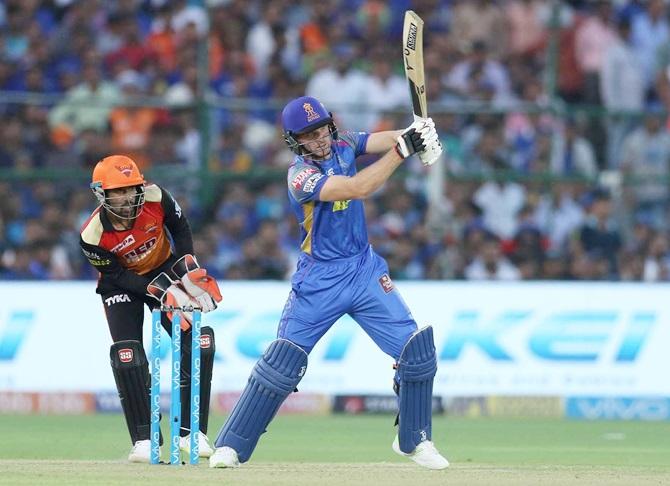 England stumper-batsman Jos Buttler says there is nothing wrong with cricketers wanting to specialise in a particular format and believes the lucrative Indian Premier League has changed the "climate" of the sport considerably.
England's Adil Rashid and Alex Hales have signed white ball-only contracts with their respective counties, which means they are not available for selection for the Test side, while Colin Munro did the same in New Zealand in March.
Test, or red-ball, cricket's slide in priority for many players is a concern for traditionalists and a recent report by the Federation of International Cricketers Association (FICA) said young players were putting their Twenty20 ambitions above national contracts.
"I think there is nothing wrong in people wanting to specialise in the sport," Buttler told the Hindustan Times.
"It is becoming increasingly tough to play in all three formats. I don't think we should have that snobbery that if you play cricket, you need to play all formats."
Buttler also said players should not be criticised for looking to maximise their earnings in tournaments like the IPL.
"The climate of cricket has changed a lot with the IPL and the money the tournament offers," said Buttler, who earned 44 million Indian rupees ($659,274) in this year's players auction after being bought by Rajasthan Royals.
"At the end of the day, we are professional athletes and we have a short career. To a big extent, earning as much money in that time is hugely important."
Buttler and his Rajasthan team mate Ben Stokes, who fetched a whopping $1.97 million in the February auction, are among a dozen English players currently playing in the eight-team league.
The limited-overs specialist said England's approach to the shorter formats had changed significantly in recent times.
"We are taking white-ball cricket as seriously as red-ball cricket," said the 27-year-old.
"There are not many players who play all formats. So, the burnout issue is not prevalent anymore. (England coach) Trevor Bayliss, in particular, who had success (in IPL) with Kolkata Knight Riders as the head coach, knows how important it is for the success of players."