'He is my No 1 pick bowler in any team I've played with'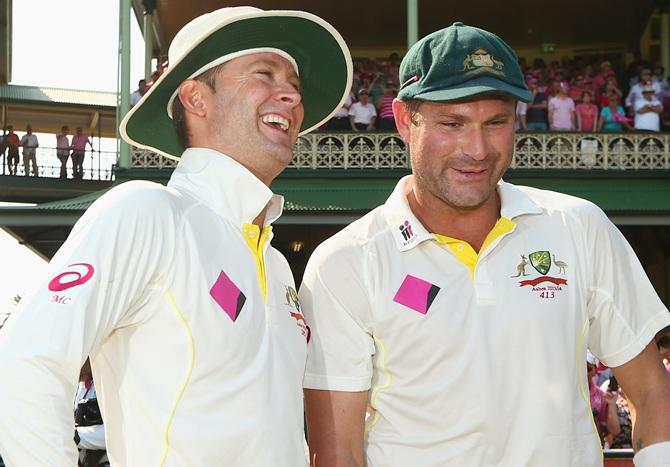 Australian captain Michael Clarke and Ryan Harris. Photograph: Cameron Spencer/Getty Images
Test captain Michael Clarke labelled Ryan Harris 'as good as anyone who has played for Australia' after the fast bowler announced his retirement on Saturday because of injury.
Injury forces Ashes-bound Harris to announce retirement
The 35-year-old quit the squad four days before the first Ashes Test against England in Cardiff after scans on his injury-prone knee showed he would need another lengthy recovery.
"I've said through my career that he is my No 1 pick bowler in any team I've played with," Clarke told Britain's Sky Sports.
"Every time I've asked him to do a job for me he's done it, I think if I asked him to run through a brick wall for me he would have a crack at it.
"He's given his best for every team he's played for and he loves winning, which is a great trait to have. He's as good as anyone who has played for Australia and I hope everyone celebrates what has been a great career," said Clarke.
Harris, who played in 27 Tests and racked up 113 wickets, will be replaced in the squad by Pat Cummins but the Sydneysider is unlikely to play in the first of the five Ashes Tests.
Josh Hazlewood and Mitchell Starc look poised to get the nod as the seamers alongside Mitchell Johnson after both impressed in the 169-run victory over county side Essex that concluded on Saturday.
Australia also easily beat Kent last month.
"I think we are as well prepared as we can be for the first Test match. Individuals have got what they have needed, the build-up now is really exciting for the players," Clarke added.
"We needed these two games. We have had two wins out of two in the UK so far, which is a positive, and that was our main focus so we can grab this momentum and take it into the first Test."
Read more Ashes stories:
Ashes history: All you need to know
Pup still has hunger for Ashes success
Wanted! A serene, sharp and streetwise captain Cook