Captain Michael Clarke rode his luck to score 139 and help steer Australia to a 132-run first innings lead over New Zealand with a total of 427 on the third day of the first Test on Saturday.
The hosts rammed home their advantage when debutant paceman James Pattinson removed opener Brendon McCullum for one just before the close of play to leave Martin Guptill (seven) and nightwatchman Dean Bracewell (0) to resume on 10-1 on Sunday.
Wicketkeeper Brad Haddin hit an aggressive 80 to help Australia past New Zealand's tally of 295 and Mitchell Starc pitched in with a useful 32 to keep the tail wagging, but the day belonged to Clarke.
"We're in a pretty good position," he said. "I think we still have to bowl well, I think there's still enough there with the new ball."
"I had a bit of luck, but it's great to make a few runs and another century for Australia."
The 30-year-old had been poised nervously on 99 at lunch but five balls after resuming, crunched a straight drive past bowler Doug Bracewell for four to claim his 17th Test hundred and third in his last four tests.
Clarke, who had started the day on 28, punched the air in delight and kissed the badge on his helmet to mark his first century as Australia captain on home soil.
He was dropped on 85 by wicketkeeper Reece Young and after passing his milestone by Jesse Ryder, both off the bowling of luckless quick Bracewell.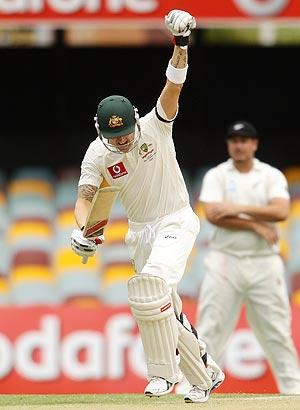 Those spills followed Friday's stroke of fortune when Clarke was bowled on 23 but called back to the crease when television replays showed he had been dismissed by a no ball.
"When things are going your way... you have got to cash in and make the most of that and that was my goal in this innings once I got that life on 20-odd," Clarke added.
There were plenty of quality strokes as well as luck, however, not least the six he hit over the head of bowler Daniel Vettori to bring up his 22nd Test half century in style.
The end came straight after tea when he top-edged a short Chris Martin delivery to Tim Southee in the deep and the quick bowler gratefully took the catch to end the 249-ball knock, which featured 19 fours and the one six.
Peter Siddle lasted just six minutes before he followed his captain to the pavillion with a duck and Bracewell must have thought his luck had turned when Ross Taylor held on to a slip catch to despatch Pattinson for 12.
Skipper Taylor turned villain soon afterwards, however, when he grassed a simple chance off Bracewell's bowling which had Starc heading off to the pavillion before he realised he had been dropped.
Haddin had started his innings slowly but, when he found his rhythm, he punished any loose bowling and brought up his 50 with a huge six. He departed going for another big boundary off Guptill with Martin accepting a straighforward catch at long-on.
Ricky Ponting, who Clarke replaced as captain this year, had earlier been hoping to notch up his first century since January 2010 but was able only to add 11 to his overnight total of 67 before being trapped lbw by Martin, who finished with 3-89.
Clarke and Mike Hussey then added another 60 runs before the experienced Western Australian nicked an inside edge onto his pads and was caught by Ryder off the bowling of Vettori for 15.
Scoreboard:
New Zealand: (first innings D. Vettori 96, D. Brownlie 77 not out; N. Lyon 4-69)
Australia: (first innings overnight 154-3)
D. Warner c Young b Southee 3
P. Hughes c Guptill b Martin 10
U. Khawaja run out 38
R. Ponting lbw Martin 78
M. Clarke c Southee b Martin 139
M. Hussey c Ryder b Vettori 15
B. Haddin c Martin b Guptill 80
P. Siddle c Taylor b Vettori 0
J. Pattinson c Taylor b Bracewell 12
M. Starc not out 32
N. Lyon c Brownlie b Southee 5
Extras: (lb-6, w-3, nb-6) 15
Total: (all out, 129.2 overs) 427
Fall of wickets: 1-3, 2-25, 3-91, 4-177, 5-237, 6-345, 7-345, 8-374, 9-418
Bowling: Vettori 37-13-88-2, Southee 28.2-5-103-2, Martin 28-5-89-3, Bracewell 26-3-104-1, Guptill 3-0-18-1, Brownlie 3-0-11-0, Williamson 4-0-8-0  
New Zealand: (second innings)
M. Guptill not out 7
B. McCullum c Ponting b Pattinson 1
D. Bracewell not out 0
Extras: (lb-1, nb-1) 2
Total: (for one wicket, seven overs) 10
Fall of wicket: 1-10
Bowling: Pattinson 4-3-1-1, Siddle 3-0-8-0.