Seasoned all-rounder Abdul Razzaq on Saturday said his participation in the Champions League Twenty20 tournament in India as the first step towards Pakistani players eventually taking part in the Indian Premier League.
On Saturday, before leaving for New Delhi to represent English county side Leicestershire in the qualifying round of the CLT20 in Hyderabad, Razzaq said he was excited about going to India to play again.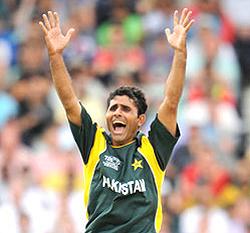 "I am sure after this trip our players will also be able to play in the IPL again. I know if I perform well it is a good thing for Pakistan cricket and players as well. I have always enjoyed playing in India and their crowds are cricket-passionate and have supported me a lot," Razzaq said.
"I just want to go there with a message for the Indians that there is a need for both countries to have normal, frequent bilateral cricket ties and in other sports as well.
"It is necessary for both countries to keep on playing against each other because sports helps heal a lot of problems," he said.
Since the Mumbai terror attacks in 2008, India has frozen bilateral cricket ties with Pakistan and no franchise in the IPL has also signed any Pakistani players since then.
No Pakistani team has also been invited to take part in the CLT20 although the domestic T20 champions of different countries participate in the cash rich event.
Razzaq said his first priority was to help Leicestershire qualify for the main tournament.
Razzaq played regularly in the outlawed Indian Cricket League after it was launched in 2007.
The all-rounder, who is presently out of the Pakistan team but has a central contract with the Board, said he had been given all assurance that he would get proper security at the venues where the CLT20 matches are being held.