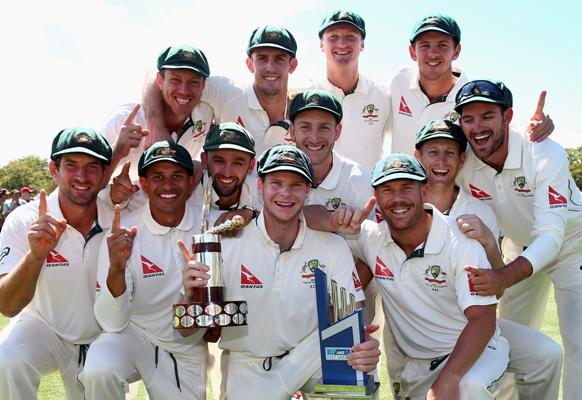 IMAGE: The Australian team celebrates with the Trans-Tasman Trophy after beating New Zealand in the second Test in Christchurch. Photograph: Ryan Pierse/Getty Images
Australia returned to the top of the Test world rankings on Wednesday after Steve Smith and Adam Voges steered the tourists to victory in the second Test against New Zealand to seal a comprehensive 2-0 series victory.
After thrashing the hosts in the first Test by an innings and 52 runs in Wellington last week, Australia sealed the second match by seven wickets shortly after lunch on the fifth and final day at Hagley Oval.
It was Australia's seventh win in 11 games under Smith's captaincy, while the match was also the 101st and final Test for New Zealand skipper Brendon McCullum, who now heads into international retirement.
Australia were last at the summit of Test cricket in July 2014 and Smith set course for a return when he assumed the captaincy from Michael Clarke full time after last year's Ashes loss to England.
"We want to win every series we play. We want to win a lot more away from home and that was a good start for us," Smith said. "We had a lot of patience in the way we played and ...all the guys are really confident in their skills."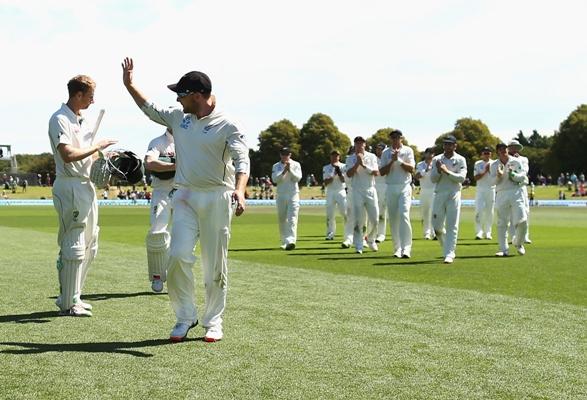 IMAGE: New Zealand's Brendon McCullum is congratulated as he leaves the ground after his final Test in Christchurch. Photograph: Ryan Pierse/Getty Images
McCullum, who will still play on the lucrative Twenty20 circuit, praised his team mates for their achievements during his reign as captain.
"We've had some fun over the last few years," he said. "We've achieved some things and hey, we've lost some games as well, but we've got our soul back and you're absolutely great men.
"For the rest of my life I'll remember playing for New Zealand. I firmly believe this team will go to a new level over the next couple of years."
Magnanimous McCullum also congratulated Australia on their return to the top of the rankings.
"You guys have proved why you are the number one Test team in the world," he added. "When you arrived here we felt we were a chance and you blew us off the park in both tests and showed why you are such a quality team."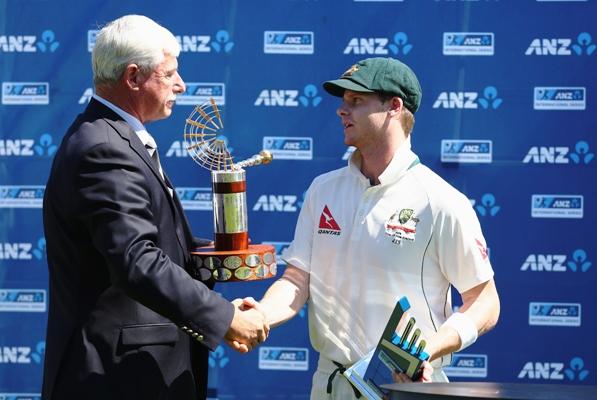 IMAGE: Australia's Steve Smith receives the Trans-Tasman Trophy from Sir Richard Hadlee. Photograph: Ryan Pierse/Getty Images
Smith ended the match on 53 not out, his 16th Test half century and follows up his 138 in the first innings. Voges hit the winning runs, a boundary through the covers to move to 10 and take the visitors to 201 for three.
Australia had looked like achieving their victory target when they reached 169 for two at the scheduled lunch break before man of the match Joe Burns (65) was bowled by Trent Boult in the additional four overs offered by the umpires.
Voges and Smith then opted to see out victory after the break.
Usman Khawaja (45) was the only other wicket to fall in the first session on Wednesday when he was well held by McCullum at first slip off Tim Southee.
Australia had only needed to draw the match at Hagley Oval to retake the top ranking in Test cricket from India.
Scorecard
New Zealand (1st innings): 370 (B. McCullum 145, C. Anderson 72, B. Watling 58).
Australia (1st innings): 505 (J. Burns 170, S. Smith 138, A. Voges 60; N. Wagner 6-106).
New Zealand (2nd innings): 335 (K. Williamson 97, M. Henry 66; J. Bird 5-59, J. Pattinson 4-77)
Australia (2nd innings):
J. Burns b Boult 65
D. Warner c Watling b Wagner 22
U. Khawaja c B. McCullum b Southee 45
S. Smith not out 53
A. Voges not out 10
Extras: (lb-4 nb-2) 6
Total: (for 3 wickets, 54 overs) 201
Fall of wickets: 1-49 D. Warner,2-113 U. Khawaja,3-179 J. Burns
Did not bat: M. Marsh, P. Nevill, J. Pattinson, J. Hazlewood, N. Lyon, J. Bird
Bowling: T. Boult 17-1-60-1, T. Southee 7-2-30-1, M. Henry 9-1-33-0(nb-1), N. Wagner 18-4-60-1(nb-1), C. Anderson 3-0-14-0.
Referees
Umpires: Richard Kettleborough and Ranmore Martinesz
TV umpire: Richard Illingworth
Match referee: Chris Broad
Result: Australia won by 7 wickets