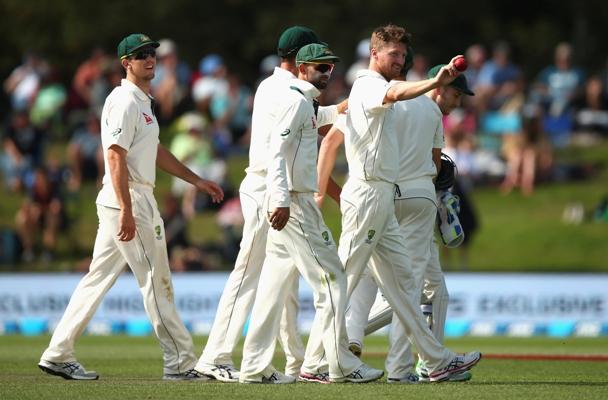 IMAGE: Australia's Jackson Bird raises the ball after finishing with five wickets during day four of the second Test against New Zealand in Christchurch. Photograph: Ryan Pierse/Getty Images
Joe Burns and Usman Khawaja reduced Australia's victory target to 131 runs with nine wickets in hand at the end of the fourth day of the second Test against New Zealand at Hagley Oval on Tuesday.
Burns was on 27, while Khawaja was 19 not out with Australia 70 for one after being set 201 runs to win the match and series 2-0.
They had earlier dismissed the hosts in their second innings for 335 after tea.
David Warner was the only wicket to fall when he was caught down the leg side by BJ Watling from Neil Wagner for 22, though New Zealand needed to ask for a review to determine the ball had glanced his gloves.
Jackson Bird grabbed his first five-wicket haul to help wrap up New Zealand's second innings after tea that had been characterised by stubborn middle and lower-order resistance.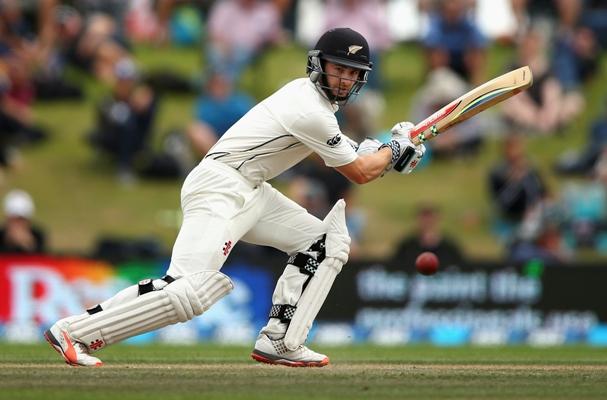 IMAGE: New Zealand's Kane Williamson bats during day four of the second Test against Australia in Christchurch. Photograph: Ryan Pierse/Getty Images
Bird, who had grabbed three quick wickets after lunch, including the key scalp of Kane Williamson (97), bowled Matt Henry for 66 - his first half century and highest score - then had Trent Boult caught for a duck to finish with five for 59.
James Pattinson finished with 4-77, but had the most important wicket in the final session on Tuesday when he dismissed Watling for 46 after the wicketkeeper had combined with Henry in a crucial 118-run partnership.
Until their eighth-wicket stand, the hosts had been in danger of being dismissed with a lead of only about 100 after Bird had broken a 102-run partnership between Williamson and Corey Anderson (40) that had got their side into credit.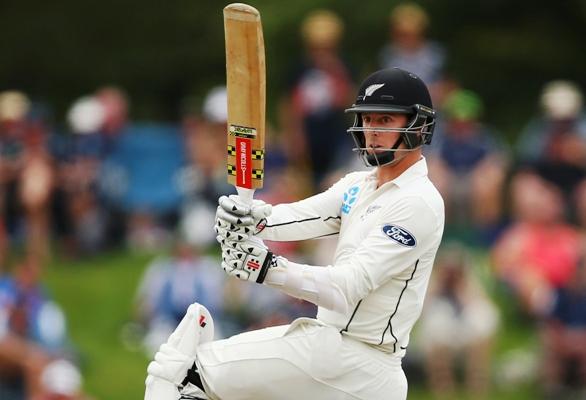 IMAGE: New Zealand's Matt Henry bats during day four of the second Test against Australia in Christchurch. Photograph: Ryan Pierse/Getty Images
The pair batted through a heated first session in which Australia dropped two catches, had two reviews turned down and an lbw decision overturned.
The second review, just before lunch and against Williamson, prompted a petulant outburst from captain Steve Smith and Josh Hazlewood, with the tall fast bowler likely to face further sanctions after microphones picked up his expletive-laden rant.
New Zealand had begun the day on 121 for four, 14 runs in arrears of Australia's 505, but their stubborn resistance ensured the match would enter a fifth and final day.
The target also appeared competitive though not overly challenging on a good batting surface and Australia should seal victory on Wednesday to reclaim the number one ranking in Test cricket.
Scorecard
New Zealand (1st innings): 370 (B. McCullum 145, C. Anderson 72, B. Watling 58).
Australia (1st innings): 505 (J. Burns 170, S. Smith 138, A. Voges 60; N. Wagner 6-106).
New Zealand (2nd innings): (Overnight: 121-4)
T. Latham c Nevill b Pattinson 39
M. Guptill c Nevill b Pattinson 0
K. Williamson b Bird 97
H. Nicholls c Smith b Pattinson 2
B. McCullum c Warner b Hazlewood 25
C. Anderson b Bird 40
B. Watling c Burns b Pattinson 46
T. Southee c Smith b Bird 0
M. Henry b Bird 66
N. Wagner not out 3
T. Boult c Pattinson b Bird 0
Extras: (b-2 lb-14 nb-1) 17
Total: (all out, 111.1 overs) 335
Fall of wickets: 1-8 M. Guptill, 2-66 T. Latham, 3-72 H. Nicholls, 4-105 B. McCullum, 5-207 C. Anderson, 6-210 K. Williamson, 7-210 T. Southee, 8-328 B. Watling, 9-335 M. Henry, 10-335 T. Boult
Bowling: J. Hazlewood 34-11-92-1, J. Pattinson 26-8-77-4, J. Bird 17.1-5-59-5, N. Lyon 17-3-42-0, M. Marsh 17-4-49-0(nb-1).
Australia (2nd innings): (Target: 201 runs)
J. Burns not out 27
D. Warner c Watling b Wagner 22
U. Khawaja not out 19
Extras: (nb-2) 2
Total: (for 1 wickets, 20 overs) 70
Fall of wickets: 1-49 D. Warner
To bat: S. Smith, A. Voges, M. Marsh, P. Nevill, J. Pattinson, J. Hazlewood, N. Lyon, J. Bird
Bowling: T. Boult 7-0-30-0, T. Southee 2-1-9-0, M. Henry 4-1-17-0(nb-1), N. Wagner 6-0-13-1(nb-1), C. Anderson 1-0-1-0.