IMAGE: West Indies opener Chris Gayle and Bollywood superstar Amitabh Bachchan bond in Mumbai. Photographs: Facebook.
Chris Gayle made a special visit to Bollywood superstar Amitabh Bachchan's home.
The Shehenshah's interest in the ongoing World T20 tournament is enormous. He was present at the epic India-Pakistan match at the Eden Gardens in Kolkata and was pumped up when India hit the winning runs to seal the high-pressure game.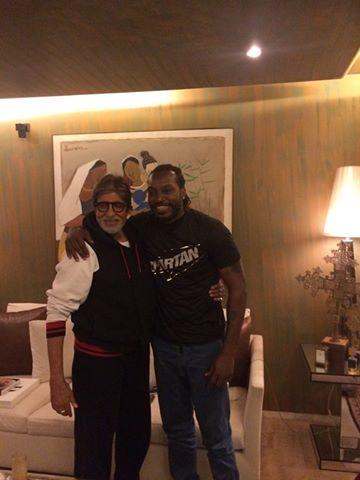 Bachchan also took a dig at former England all-rounder Andrew Flintoff when the latter had tried to make fun of India's champion batsman Virat Kohli.
"Thanks for the invite and hospitality at your home, thanks also for the books. The boss wants me to score a 100 and India win but I would take the win rather than the 100," Gayle tweeted after his visit.
To this, Bachchan gave a sarcastic reply on his Facebook account.
"Chris Gayle pays a visit home ... did not know he was a fan .. I was my best behaved and politest .. hoping he would pay back the compliment when we play them on Thursday .. hehe," he posted.