'Joe Root is ready to captain England.'
Rediff.com's Harish Kotian believes the 5th Test could mark the end of the Cook era in English cricket.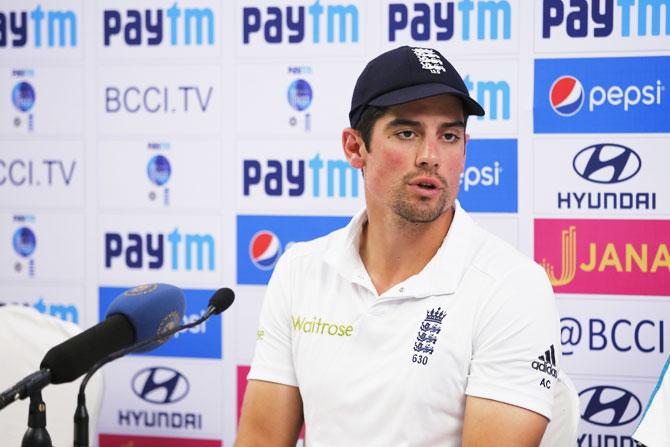 IMAGE: Alastair Cook has played down speculation over his captaincy after England's Test series loss against India. Photograph: BCCI
The fifth and final Test, which begins in Chennai on Friday, could turn out to be Alastair Cook's last game as England's Test captain.
Faced with a barrage of questions over the future of his captaincy after the India series, Cook said he would have a chat with Andrew Strauss, director of England cricket, before taking a decision.
"The comments I made (at the start of the series) have not changed anything. It sticks true to the end of this series. I will sit down with Straussy at the end of the year, like we have made a pact to do, to talk honestly and openly about stuff. My position has not changed if we had won this game or lost this game," Cook told the media on Monday after England were beaten by an innings and 36 runs in the fourth Test.
Speculation about Cook's captaincy began last month after the left-hander hinted in an interview that he could give up his role after the India series.
'Deep down I don't know how much longer I am going to carry on. It could be two months, it could be a year,' he was quoted as saying by Cricketer magazine last month.
Asked if Joe Root is ready to take over as England's Test captain if he did indeed quit, Cook was categorical.
"Joe Root is ready to captain England. You never know until you actually experience it, the whole thing that comes with the England captaincy. You are thrown in at the deep end and you kind of sink or swim. It is as simple as that. Nothing can prepare you for it," Cook pointed out.
"He is ready because he is a clued up guy, he has the respect of everyone in the changing room. He has not got much captaincy experience, but that does not mean everything," Cook added.
"Being captain of England is a huge honour, a huge privilege. You are at the forefront of the team and it comes onto your shoulders when you win or lose. In the heat of the battle you make those decisions. You go to bed at night and you have to live with making good or bad decisions," Cook said.
"As a bloke to be asked to lead your country is a huge honour personally. I am very proud to do it," Cook, who has captained England in 58 Tests since being appointed in 2012, said.
Cook has played 139 Tests, scoring 10,998 runs with 30 centuries.