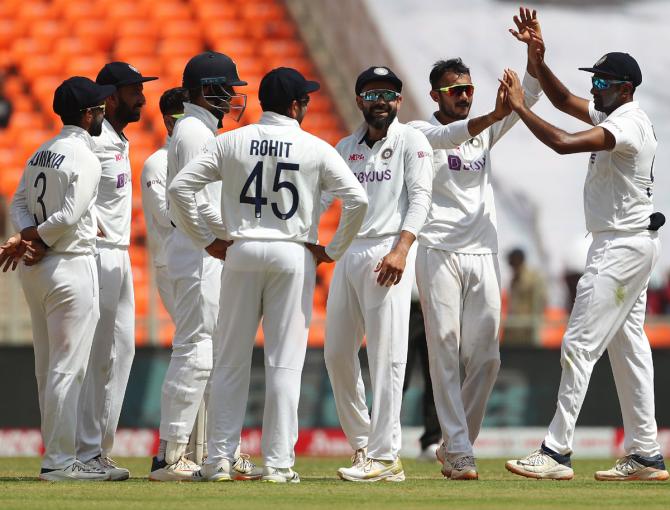 Fit again Ravindra Jadeja and Hanuma Vihari made their way back into the Indian Test squad, while all-rounder Hardik Pandya was left out for next month's IIC World Test Championship final against New Zealand and the five-match series against England.
Jadeja had missed the four-Test series at home against England because of injury he sustained in Australia, while Bumrah missed the fourth and final Test after he took a break for 'personal reasons'. Pacer Mohammed Shami also missed the last three Tests because of injury he sustained during the first game.

Hardik was kept out of the team as he is not in a position of bowl.

"Hardik Pandya is still not in a position to bowl. The experiment of selectors to keep him during England and prepare him with bowling workload has failed miserably. He will henceforth not be considered for Test cricket," a BCCI source was quoted as saying by PTI.

Left-arm spinner Kuldeep Yadav and pacer Navdeep Saini also failed to make it to the squad, while Bhuvneshwar Kumar also missed out after recently making a comeback from injury in IPL 2021.

Wicketkeepers KL Rahul and Wriddhiman Saha's inclusion will be subject to fitness clearance. Rahul recently underwent surgery after being hospitalised for acute appendicitis, while Saha recently tested positive for COVID-19 during the IPL.

Opener Easwaran and pacer Avesh Khan were also with the team during the England series while the extra pace did it for IPL regular Prasidh Krishna and Gujarat left-arm fast bowler Arzan Nagwaswalla, who had a stellar 2019-20 season. He is the only Parsi cricketer currently playing at the first-class level in India.

The 23-year-old left-arm pacer has 62 first-class wickets to his credit in 16 matches that he has played since his debut in 2018.

The ICC World Test Championship final between India and New Zealand will be played in Southampton from June 18 to 22. It will will be followed by India's tour of England comprising of five Tests matches in August-September.

India squad: Virat Kohli (captain), Ajinkya Rahane (vice-captain), Rohit Sharma, Shubman Gill, Mayank Agarwal, Cheteshwar Pujara, Hanuma Vihari, Rishabh Pant (wicket-keeper), Ravichandran Ashwin, Ravindra Jadeja, Axar Patel, Washington Sundar, Jasprit Bumrah, Ishant Sharma, Mohammed Shami, Mohammed Siraj, Shardul Thakur, Umesh Yadav.

*** KL Rahul (subject to fitness clearance), Wriddhiman Saha (wicket-keeper; subject to fitness clearance).

Standby players: Abhimanyu Easwaran, Prasidh Krishna, Avesh Khan, Arzan Nagwaswalla.