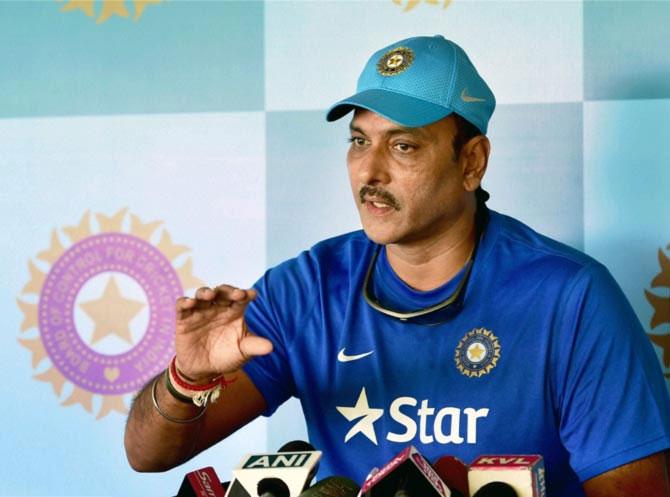 Former Test cricketer Chetan Chauhan on Sunday held Team India head coach Ravi Shastri responsible for the 4-1 debacle India suffered in the Test series in England and said Shastri should be removed before the Australia tour in November.
"Ravi Shastri should be removed as head coach before the Australia tour. Ravi Shastri is a very good cricket commentator and he should be allowed to do so," Chauhan, also Uttar Pradesh Sports Minister, said while agreeing to demands raised by former cricketers for removal of Shastri as coach.
Speaking to mediapersons in Dhanbad, Jharkhand, Chauhan said, "Team India should have performed better. Both the teams were evenly matched. But the Indian team failed to check tail-enders of England."
The former Test opener also criticised Shastri for calling Virat Kohli-led present Indian team as the 'best travelling team in the world'.
"I do not agree. In 1980s, the Indian team was the best travelling team in the world," he said.
After a thumping victory over England at TrentBridge in the third Test on August 16, Shastri had claimed the present India side was the best travelling team in the world.
Commenting on India's chances in the ongoing Asia Cup cricket championship in Dubai, Chauhan said a better result is expected as the team is balanced with experienced and young players.
Chauhan played 40 Test matches and scored 2,084 runs between 1969 and 1981.
He made his debut in 1969 against New Zealand in Mumbai and played his last Test against the same country in 1981 in Auckland. Besides, Chauhan also played seven one day internationals.
Chauhan is the latest cricketer to demand Shastris ouster after former captain Sourav Ganguly and Virender Sahwag.