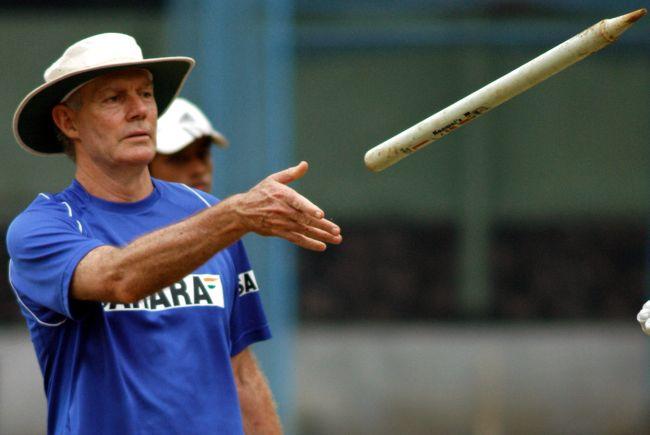 Greg Chappell. Photograph: Jagadeesh Nv/Reuters
India's premier speedster Zaheer Khan revealed that Greg Chappell had told him back in 2005 that he "would never play for India" till he was at the helm, and termed the period under the Australian as the "darkest phase of Indian cricket".
"After he was appointed the coach of the Indian team, he once came up to me and said, 'Zaheer, you will not be playing for India till I remain the coach'," Zaheer said, backing Sachin Tendulkar's revelations about the Australian during his tenure as coach in his upcoming autobiography Playing It My Way.
So how did he react when the coach came up and told him that?
Zaheer laughed and said, "I was so taken aback that I couldn't react for some time. I was totally zapped. Like, what do I do now? Do I revolt? Do I speak to the captain about what's happening? Do I take his comments at face value? Why is he taking it on me?".
'Chappell tried many ways to stop my comeback into Indian team'
India's Zaheer Khan (right) appeals, while South Africa's AB de Villiers (left) watches. Photograph: Howard Burditt/Reuters
Zaheer said Chappell's two-year phase (2005-07) in Indian cricket was "easily the worst and darkest phase" he could remember.
"I understood one thing: this man had agendas and was getting personal. He had his set ideas and if you didn't fall in line, then you had to be prepared to fall by the wayside. He tried to finish my career, but I believe I came back even stronger in South Africa during the end of 2006," said the 36-year-old left-arm pacer, who has 311 Test and 282 ODI wickets in his 14-year-international career.
He did not stop short of calling him a "control freak".
"He had some issues with the senior guys in the team. He tried many ways to stop my comeback into Indian team during the phase when I was out of the team for nearly a year. I came to know later that every time when my name was discussed, he (Chappell) would find means to delay my comeback by 3-4 months," added Zaheer.
'A happy bunch wins you matches'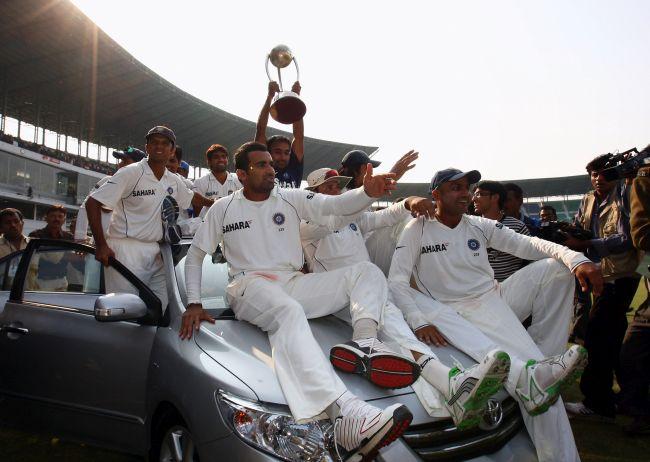 Zaheer Khan during the lap of honour after beating Australia in 2008. Photograph: Michael Steele/Getty Images
Zaheer said it was a difficult phase but the primary challenge was to shed off the negativity and move on with work in hand.
"I made a good comeback in South Africa as I decided to put all the negativity that came as a package with Chappell behind me and perform. I didn't want to get insecure.
"You have to understand one thing: a happy bunch wins you matches. We were not a happy bunch. It was a team where someone was using his personal likes and dislikes to control the environment," he added.
After he came back, Chappell was there for another four months till the World Cup ended and Zaheer remembers that phase distinctly.
"Well, we didn't have many interactions with him during that time but I could realise that I was winning the battle and he was fighting for a lost cause. Also, why only Indian cricketers, why don't you guys go and ask the current lot of Aussie cricketers about what exactly they feel about Chappell? I can bet that it won't be much different from what we are saying," said the highest wicket-taker during India's victorious 2011 campaign.
'The anger of that phase egged me on to do well'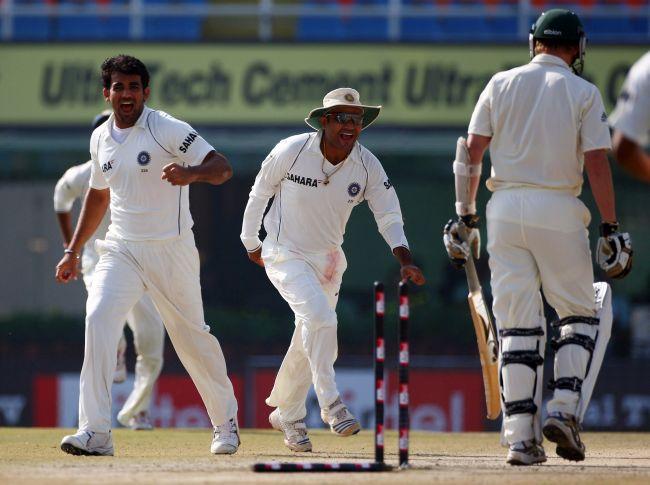 Zaheer Khan celebrates after dismissing Brett Lee. Photograph: Michael Steele/Getty Images
He said that during India's triumphant 2008 home series against Australia (India won the 4-Test series 2-0), he was fired up seeing Chappell in the opposition's dressing room.
"Chappell had come as a consultant of Cricket Australia during that tour. I can say from a personal point of view that I was really fired up and gave it my all. The anger of that phase egged me on to do well and prove a point to Chappell," Zaheer concluded.