The Kolkata Knight Riders team. Photograph: BCCI
Depleted by the absence of high-profile names, Indian Premier League 2014 champions Kolkata Knight Riders have a tough task on hand when they lock horns with formidable Chennai Super Kings in the opening Group 'A' match of the Champions League T20, in Hyderabad, on Wednesday.
Buoyed by their thumping success in the IPL, KKR are looking to go for the kill in the Champions League, even though their build-up to the tournament was plagued by injuries to Chris Lynn and Morne Morkel and the absence of Shakib Al Hasan, who failed to get an NOC from the Bangladesh Cricket Association.
Led by the stylish Gautam Gambhir, the Kolkata team does not have a good record in CLT20; they reached the Group Stage in 2011 and 2012, but failed to advance.
"Our record in Champions League is not that great. Hopefully, we have to rectify that. There is lot to play for. CLT20 is the tournament that we have not won and we have the side that can win any tournament. So this time we are motivated to win the tournament," Gambhir said.
Gambhir expects youngsters to come good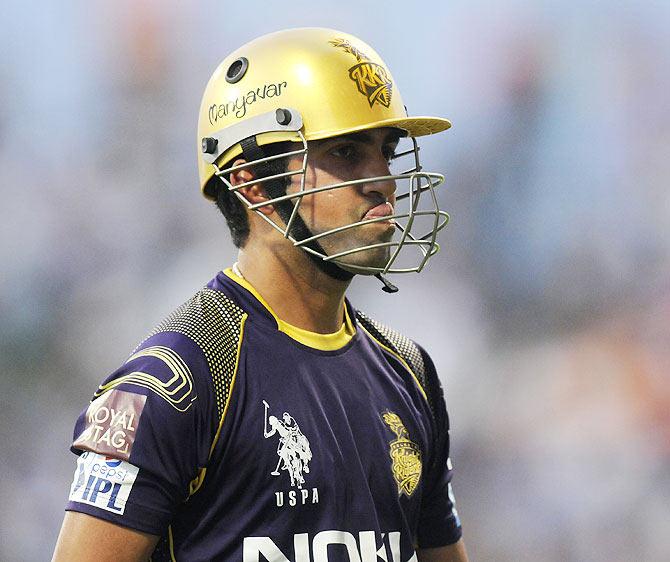 Kolkata Knight Riders captain Gautam Gambhir. Photograph: BCCI
Besides Gambhir, KKR has some high-octane performers, like Jacques Kallis, Robin Uthappa and Yusuf Pathan, in their ranks.
"Obviously (we will miss them – Shakib and Morne). I would be lying if I say I won't miss them. They are quality performers. Especially Shakib. He is an unbelievable performer. But this gives an opportunity for other young guys who have been waiting. Hopefully they can grab the opportunity and deliver good results for us," Gambhir said.
"This will also help us in the next IPL if they perform well. We will have big pool to select the team for IPL," he added.
The Kolkata team played a practice match with Hyderabad XI, at the Rajiv Gandhi cricket stadium in Hyderabad on Monday. In the 20-overs practice match, Kallis scored 58 runs (43b, 3x4,4x6).
'We will have to see how quickly we adapt to the conditions'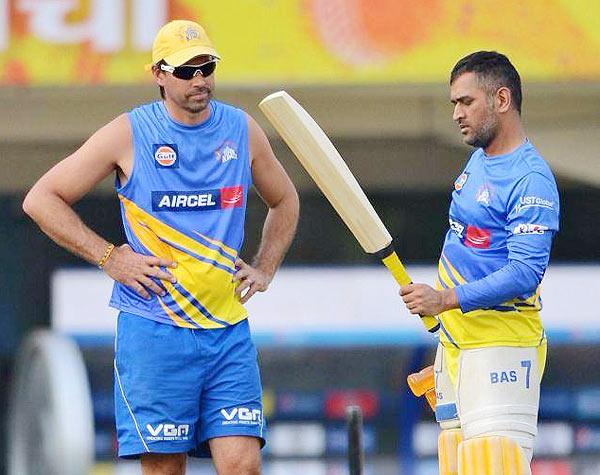 Chennai Super Kings coach Stephen Fleming with team captain Mahendra Singh Dhoni. Photograph: Chennai Super Kings/Facebook
CLT20 2010 champions Chennai Super Kings, led by Mahendra Singh Dhoni, are equally poised to put their best foot forward.
In a shot in the arm for the team, seasoned Dwayne Bravo is back in the side.
"We have a very good side. About the chances, it all depends on how well we adapt. The good thing for us will be having Bravo back. He was injured during the IPL and that really affected the strength, combination and stability of the side. It is good to have him back," Dhoni said on Monday.
"Also, most of the players have been playing international cricket and most of them have scored runs in the recent series. So, it's looking good. Still, we will have to see how quickly we adapt to the conditions," he added.
The Chennai outfit has some brilliant players, like Suresh Raina, Ravichandran Ashwin, Ravindra Jadeja, and Francois du Plessis, in its ranks who make it a formidable force.
The teams (from):
Kolkata Knight Riders: Gautam Gambhir (C ), Yusuf Pathan, Robin Uthappa, Piyush Chawla, Vinay Kumar, Umesh Yadav, Manish Pandey, Suryakumar Yadav, Kuldeep Yadav, Sunil Narine, Jacques Kallis, Ryan ten Doeschate, Pat Cummins, Andre Russel and Manvinder Bisla.
Chennai Super Kings: Mahendra Singh Dhoni (C ), Suresh Raina, Ashish Nehra, Mithun Manhas, Ravichandran Ashwin, Ishwar Pandey, Pavan Negi, Ravindra Jadeja, Mohit Sharma, Dwayne Smith, Dwayne Bravo, John Hastings, Brendon McCullum, Samuel Badree and Francois du Plessis.