The total they put on board didn't seem like a winning one but Mumbai Indians captain Harbhajan Singh said gamechanger Lasith Malinga proved to be the key as his depleted team lifted the Champions League Twenty20 trophy by beating the more fancied Royal Challengers Bangalore. 
Electing to bat first, Mumbai made just 139 in their 20 overs and it looked the match was out of their hands against an aggressive RCB line-up. But Malinga (2-23) and Harbhajan himself (3-20) shone with the ball to eke out a 31-run triumph for Mumbai. 
"Obviously, I was a little disappointed with the way we lost momentum in the middle overs, I still feel we could've got 160 on this wicket. We were 20 runs short. The wicket played like yesterday and we played a few bad shots and a couple of run outs didn't help and we put ourselves in a very difficult situation," Harbhajan told reporters in the post-match press conference.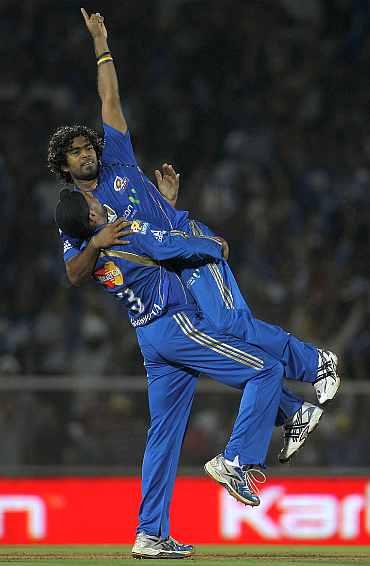 "When we got inside the dressing room in the middle of the innings, our coaches Polly (Shaun Pollock) and Robin (Singh) spoke to the boys and they said we should go out there and fight till the last ball. 'I don't want any of you to feel the game is over, because 140 could be the winning total'," he said. 
"So I said to the boys (out) in the middle, 'till the last ball is bowled, we're going to go and give our best shot. It's just a matter of one and a half hours, if we play well, we're gonna win this. Believe that we can win this game'," he added.
Heaping praise on Malinga, Harbhajan said, "We got (Tillakaratne) Dilshan early and Mally (Malinga) is my man, he made a crucial breakthrough for us. He has bowled and batted superbly throughout the tournament and has been Mumbai Indians' top performer right from the day he joined, and even for Sri Lanka, he's been among the top performers."
"I am very lucky to have a bowler like him. I rely on him to get wickets, to break partnerships in the middle overs and I can rely on him to bowl the death overs, even if six or seven runs are needed in the final over," Harbhajan added. 
The feisty off-spinner said having injured regular captain Sachin Tendulkar in the dressing room also helped the team immensely. 
"Sachin is a great cricketer, great role model for all of us and having him in the dressing room. Unfortunately he was not playing but his support was always there, and his ideas were there. 
"It shows how much he loves the team and how much passion he has for the team. He was not playing but his efforts behind the scenes were as good as anyone in the field. He was very excited, very happy, you can't ask for more, he is still taking pictures with the boys, holding the cup," he added.