The IPL derby between defending champions Mumbai Indians and Chennai Super Kings might have been reduced to a dead-rubber even before its start but both the teams were desperate to win the match for pride, said Mumbai stumper Dinesh Karthik.
Even before the first ball was bowled on Saturday, the match was rendered inconsequential after Highveld Lions notched up a five-wicket win over Yorkshire earlier in the day to become the second team from Group B after Sydney Sixers to reach the semi-finals of the ongoing Champions League Twenty20, thus knocking out both Chennai and Mumbai.
"It (the match) was important for both the teams, and both wanted to win out of pride. Both play in the IPL, so we got a fight going on. It was good to play an important game and a game that had a close finish," said Karthik, whose whirlwind 74 went in vain as Chennai eked out a narrow six-run win over Mumbai in the high-scoring match.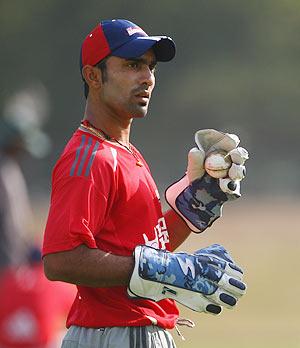 "We are two IPL teams and we have a history of competing against each other so it was important for us to do the best that we can.
"At the end of the day it was a very good game and we play for the crowds and I am sure that they had a good game and a close game to watch. This is great for CLT20, it just the fact that close games happen," he told clt20.com
Chasing Chennai's challenging 173 for eight, Karthik led Mumbai's run chase with a scintillating 45-ball 74, which was studded with four fours and six sixes, but it was not enough as the Harbhajan Singh-led side could manage 167 for seven.
"The wicket was seaming a bit. It was tough to play shots off the fast bowlers, but things came out well for me; so I am happy with the way it went," Karthik said about his knock.
He said the last game against Sydney Sixers might not have any significance for them in the context of the tournament, but they will try to give their best.
"They (Sixers) are the best team. I am not sure of the combination or who will play but whatever it is we come out and try and put up the best side that we can," Karthik trailed off.