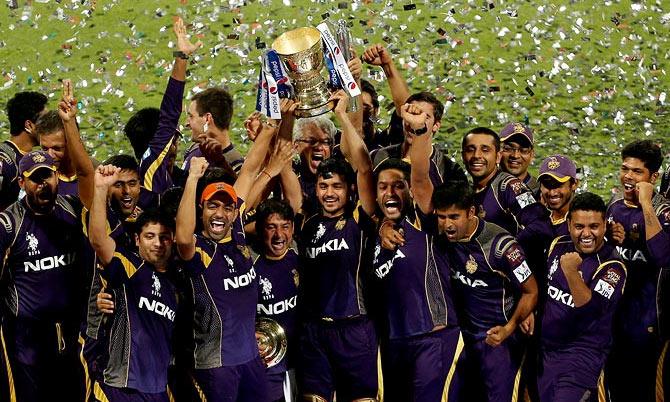 The Kolkata Knight Riders team celebrates after winning the seventh edition of the IPL. Photograph: BCCI
Defending champions Kolkata Knight Riders will take on 2013 winners Mumbai Indians in a high-voltage opening clash of the eighth edition of the Indian Premier League, at the Eden Gardens in Kolkata, on April 8.
Sixty matches (including the four play-offs) will be played over 47 days in the cash-rich T20 tournament.
The Maharashtra Cricket Association's International Stadium in Pune will host three home games of King's XI Punjab, while the Dr. YSR ACA-VDCA Stadium at Visakhapatnam will host three home games of Sunrisers Hyderabad.
After a hiatus in 2014, the Shahid Veer Narayan Singh International Stadium at Raipur will again stage two home games of Delhi Daredevils.
Meanwhile, Rajasthan Royals will continue to play their home games at the Sardar Patel Gujarat Stadium, in Motera, Ahmedabad, and another venue that will be confirmed shortly.
The final of the tournament will be in Kolkata on May 24.
"The top players from all over the world will be seen in action this year at the Pepsi IPL 2015. I am looking forward to some exciting contests in the middle. Over the next couple of weeks, the teams will strengthen their squads in preparedness for the 2015 edition of the Pepsi IPL. I am excited to join the fans to see a lot of exciting cricket over the next three months," Ranjib Biswal, chairman, IPL Governing Council, said.
The IPL Players' Auction will be held on February 16 with the teams getting one final opportunity to bolster their respective squads ahead of IPL 8.
Check out the complete schedule:
Indian Premier League, April-May 2015
Date
Match
Venue
Time (IST)

April 8

Kolkata Knight Riders vs Mumbai Indians

Kolkata

2000

April 9

Chennai Super Kings vs Delhi Daredevils

Chennai

2000

April 10

Kings XI Punjab vs Rajasthan Royals

Pune

2000

April 11

Chennai Super Kings vs Sunrisers Hyderabad

Chennai

1600

April 11

Kolkata Knight Riders vs Royal Challengers Bangalore

Kolkata

2000

April 12

Delhi Daredevils vs Rajasthan Royals

Delhi

1600

April 12

Mumbai Indians vs Kings XI Punjab

Mumbai

2000

April 13

Royal Challengers Bangalore vs Sunrisers Hyderabad

Bangalore

2000

April 14

Rajasthan Royals vs Mumbai Indians

Ahmedabad

1600

April 14

Kolkata Knight Riders vs Chennai Super Kings

Kolkata

2000

April 15

Kings XI Punjab vs Delhi Daredevils

Pune

2000

April 16

Sunrisers Hyderabad vs Rajasthan Royals

Visakhapatnam

2000

April 17

Mumbai Indians vs Chennai Super Kings

Mumbai

2000

April 18

Sunrisers Hyderabad vs Delhi Daredevils

Visakhapatnam

1600

April 18

Kings XI Punjab vs Kolkata Knight Riders

Pune

2000

April 19

Rajasthan Royals vs Chennai Super Kings

Ahmedabad

1600

April 19

Royal Challengers Bangalore vs Mumbai Indians

Bangalore

2000

April 20

Delhi Daredevils vs Kolkata Knight Riders

Delhi

2000

April 21

Rajasthan Royals vs Kings XI Punjab

Ahmedabad

2000

April 22

Sunrisers Hyderabad vs Kolkata Knight Riders

Visakhapatnam

1600

April 22

Royal Challengers Bangalore vs Chennai Super Kings

Bangalore

2000

April 23

Delhi Daredevils vs Mumbai Indians

Delhi

2000

April 24

Rajasthan Royals vs Royal Challengers Bangalore

Ahmedabad

2000

April 25

Mumbai Indians vs Sunrisers Hyderabad

Mumbai

1600

April 25

Chennai Super Kings vs Kings XI Punjab

Chennai

2000

April 26

Kolkata Knight Riders vs Rajasthan Royals

Kolkata

1600

April 26

Delhi Daredevils vs Royal Challengers Bangalore

Delhi

2000

April 27

Kings XI Punjab vs Sunrisers Hyderabad

Mohali

2000

April 28

Kolkata Knight Riders vs Delhi Daredevils

Kolkata

2000

April 29

Royal Challengers Bangalore vs Rajasthan Royals

Bangalore

2000

April 30

Chennai Super Kings vs Kolkata Knight Riders

Chennai

2000

May 1

Delhi Daredevils vs Kings XI Punjab

Delhi

1600

May 1

Mumbai Indians vs Rajasthan Royals

Mumbai

2000

May 2

Royal Challengers Bangalore vs Kolkata Knight Riders

Bangalore

1600

May 2

Sunrisers Hyderabad vs Chennai Super Kings

Hyderabad

2000

May 3

Kings XI Punjab vs Mumbai Indians

Mohali

1600

May 3

Rajasthan Royals vs Delhi Daredevils

TBC*

2000

May 4

Chennai Super Kings vs Royal Challengers Bangalore

Chennai

1600

May 4

Kolkata Knight Riders vs Sunrisers Hyderabad

Kolkata

2000

May 5

Mumbai Indians vs Delhi Daredevils

Mumbai

2000

May 6

Royal Challengers Bangalore vs Kings XI Punjab

Bangalore

2000

May 7

Rajasthan Royals vs Sunrisers Hyderabad

TBC*

2000

May 8

Chennai Super Kings vs Mumbai Indians

Chennai

2000

May 9

Kolkata Knight Riders vs Kings XI Punjab

Kolkata

1600

May 9

Delhi Daredevils vs Sunrisers Hyderabad

Raipur

2000

May 10

Mumbai Indians vs Royal Challengers Bangalore

Mumbai

1600

May 10

Chennai Super Kings vs Rajasthan Royals

Chennai

2000

May 11

Sunrisers Hyderabad vs Kings XI Punjab

Hyderabad

2000

May 12

Delhi Daredevils vs Chennai Super Kings

Raipur

2000

May 13

Kings XI Punjab vs Royal Challengers Bangalore

Mohali

2000

May 14

Mumbai Indians vs Kolkata Knight Riders

Mumbai

2000

May 15

Sunrisers Hyderabad vs Royal Challengers Bangalore

Hyderabad

2000

May 16

Kings XI Punjab vs Chennai Super Kings

Mohali

1600

May 16

Rajasthan Royals vs Kolkata Knight Riders

TBC*

2000

May 17

Royal Challengers Bangalore vs Delhi Daredevils

Bangalore

1600

May 17

Sunrisers Hyderabad vs Mumbai Indians

Hyderabad

2000

May 19

Qualifer 1

TBC*

2000

May 20

Eliminator

TBC*

2000

May 22

Qualifer 2

TBC*

2000

May 24

FINAL

Kolkata

2000
(*TBC=To be confirmed)