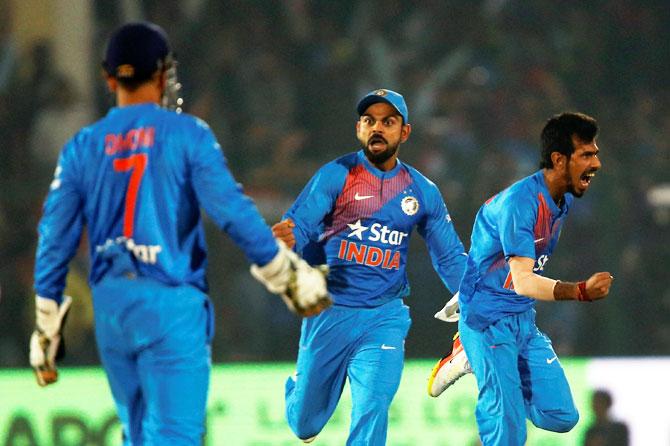 IMAGE: India's captain Virat Kohli and Yuzvendra Chahal celebrate the wicket of England's Sam Billings on Thursday. Photograph: Danish Siddiqui/Reuters
Young leg-spinner Yuzvendra Chahal said big grounds like the one at the VCA Stadium in Jamtha, Nagpur, provides him with a chance to flight the deliveries more in order to create a deception.
"Big ground makes a difference. You can flight the ball. Also there's a doubt in batsman's mind as to which ball to hit and he will have to make a choice. At a small ground, a batsman can try hitting every ball, but here he has to pick and choose," said the 26-year-old Chahal, who was India's most impressive bowler during their seven wicket defeat against England in the first ODI.
It's a 75-yard boundary at VCA Stadium, at least 10 yards more than GreenPark in Kanpur. Chahal said he stayed confident even when the big-hitting England batsmen went after the bowlers as that ploy provided the bowlers opportunities to dismiss them.
"We have not discussed (bowling strategy), but the way they batted in the previous game gives a plus point to the bowlers as they were trying to hit each and every ball. I got hit for a six on the first ball and then I got a wicket (of Roy).
"You have got six balls while the batsman has just one ball. You have to plan accordingly because T20 is such a quick format where you have to be on your toes always as you don't know what will happen next," the wiry framed spinner said.
Chahal took two wickets in close succession to pack off Jason Roy and Sam Billings, both getting bowled, to apply the skid after England made a runaway start chasing India's modest score of 147 and later steadied the innings and won by seven wickets to take a 1-0 lead in the series.
The Haryana cricketer admitted that he was tensed before bowling his first over in Kanpur.
"This was my first series after the tour of Zimbabwe and that too at home. I was a bit nervous at the start. After bowling the first over I gained confidence. Playing in India, the ground is always full and there is pressure of the home crowd, but things became better although I was a bit nervous in the beginning," said Chahal, who grabbed 2 for 27 in four overs.
Chahal maintained that his strategy will depend on match situation.
"My aim is to bowl stump-to-stump. It will be based on situation and the wicket when I come to bowl, which side of the ground is bigger," he explained.
Being the third spinner in pecking order in Haryana Ranji side after Amit Mishra and Jayant Yadav, Chahal didn't get a chance to play too many Ranji matches with the home venue being Lahli.
"Ranji Trophy is an important tournament. I had never played so many matches in the past, but this time Mishy bhaiya (fellow-Haryana leggie Amit Mishra) and Jayant (Yadav, also from Haryana) were playing for India. So, I had a chance to grab.
"I had a good performance in seven matches. After Zimbabwe, I played for India A and then DY Patil (T20 tournament) and I came here (for T20 series against England). So I was playing regularly.
Asked about difference between his own bowling and that of his senior teammate Mishra's, Chahal reckons he is slightly quicker through the air and gets less turn.
"Mishy bhaiya extracts more turn. I don't turn the deliveries that much. My pace is more. I focus on line and length."
Asked about possible team composition, he said it was up to the coaches.
"That's up to the coaches. In the last match, I and (Parvez) Rasool bhai did well. Depends on whether the wicket offers turn or not."