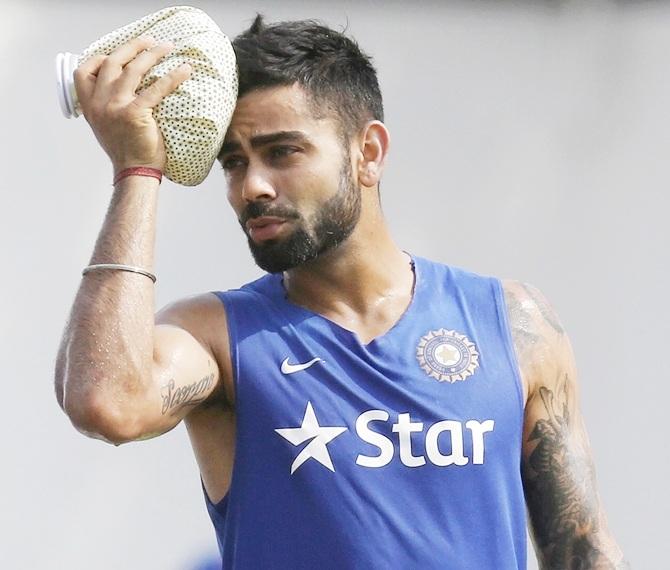 IMAGE: India's Test captain Virat Kohli during a practice session. Photograph: Amit Dave/Reuters
Captaincy is not an easy job as one also needs to be patient at times, India's Test skipper Virat Kohli has admitted.
"When a team keeps winning, confidence automatically grows. Captaincy is not an easy job as you do have challenging situations. You have to maintain your focus, wait for that half chance, as too many changes send wrong message, you need to stay focused.
"That one wicket will come at some stage and after that you can cash in on with your aggressive mindset. It's about not panicking when things don't go your way.
"I have enjoyed it (captaincy). I relish making plans with bowlers, as when it comes off, that particular feeling is hard to explain. I like the fact that I am always involved in things, active, it fits me perfectly," said Kohli.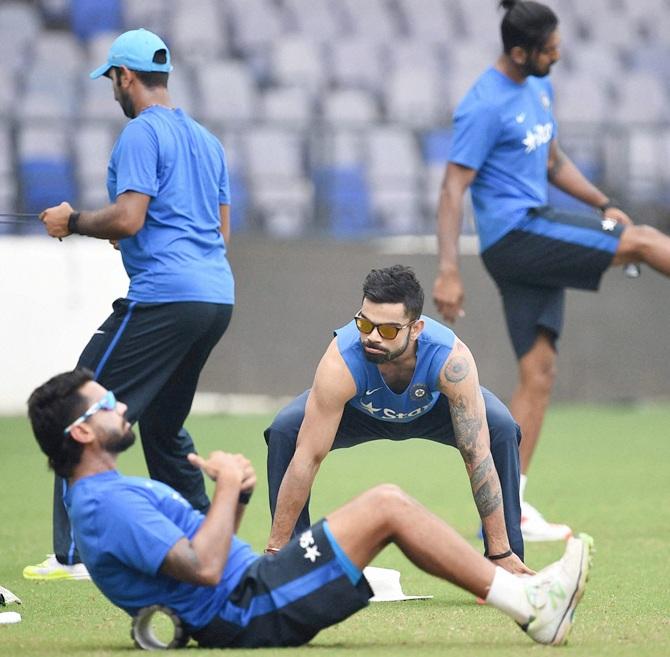 IMAGE: Indian Test captain Virat Kohli and his team-mates during training. Photograph: PTI
There was recently a question on styles of captaincy with a mild hint towards former Test captain Mahendra Singh Dhoni's style without naming him but Kohli gave a diplomatic reply. And that too without taking Dhoni's name even once.
"Well tried," he laughed. "I have my own style.
"That exactly what happens when different individuals are captaining. Not as if it doesn't work. Different people have different ways of making it work.
"I don't think we should compare two individuals when they are playing for the same country," he said.