Right now, our mindset is very similar, to go out there and enjoy our cricket, which we have done in the past few years, says Virat Kohli, at a press conference before the defending champions' departure to England for the Champions Trophy. Rediff.com's Harish Kotian listens in as the young Indian captain speaks.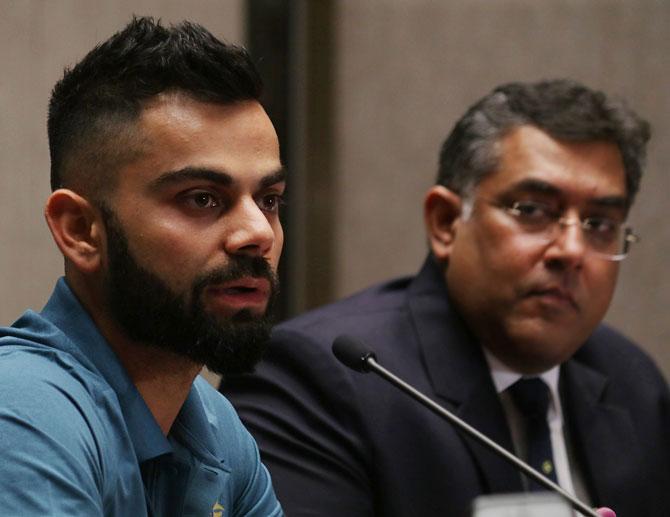 IMAGE: India captain Virat Kohli with team manager Kapil Malhotra at a press conference in Mumbai on Wednesday, prior to the team's departure to England for the Champions Trophy. Photograph: Hitesh Harisinghani/Rediff.com
Virat Kohli is bracing up for his biggest assignment as India's limited overs captain as he leads the team at the upcoming ICC Champions Trophy -- the second most important tournament in 50-overs cricket after the World Cup.
Kohli, who was already leading the Test team, was appointed full time India captain in ODIs and T20Is in January this year after Mahendra Singh Dhoni stepped down.
And the first advice captain Kohli has given his side, as they depart for United Kingdom on Wednesday night, is not to get bogged down by the pressure of being the defending champions.
"I think the first challenge is not to think about the fact that we are defending the title. When we went there the last time, we just wanted to enjoy ourselves as a young unit. We ended up winning the tournament and ended up creating a team which has done so well so far," Kohli said in Mumbai on the eve of team's departure.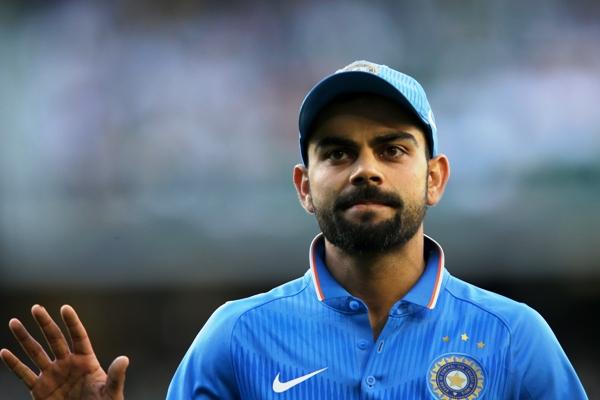 IMAGE: For Virat Kohli winning is the main motivation irrespective of the venue. Photograph: Darrian Traynor/Getty Images
Why is failure in one series a matter of for sub-continent cricketers, he also wondered.
"For me I feel that you improve as a cricketer every series that you play. Sometimes, not in our own heads but the atmosphere around us is built in a way that becomes like a life and death kind of series and especially for sub-continent cricketers, which I don't understand why," he.
Kohli said that his sole ambition is to win matches for India, irrespective of the conditions or the venue.
"If players don't do well in India and then go back, there is no hype around it, you don't do well away from India it is like a knife hanging on your neck, so I don't believe in those things.
"I would never play for redemption, my only motivation is to keep winning games for my country and doesn't matter the conditions I am playing in, it might be in sub-continent, it might be England, Australia, South Africa, the aim always is to win games and I am willing to do whatever I can to be able to achieve that for the team."
The batting mainstay then sought to take things easy.
"People might look at it redemption, opportunity or stuff like that but in my head I don't think of those things at all, for me it's a game of cricket played anywhere in the world."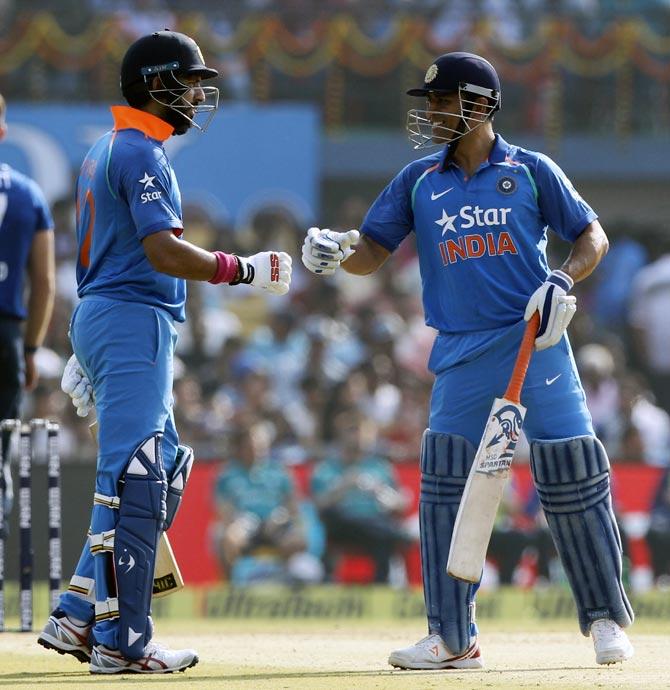 IMAGE: Yuvraj Singh and Mahendra Singh Dhoni were pivotal in India's win in the ODI series against England earlier this year. Photograph: BCCI
Under Kohli's leadership, India had a dream 'home run' in Test matches, winning all the four series they hosted -- against New Zealand, England, Bangladesh and Australia.
Kohli is hoping the limited overs team can learn from the Test team's success and look to adopt that same ruthless approach.
"Right now, our mindset is very similar, to go out there and enjoy our cricket, which we have done in the past few years. In Test cricket, we have been able to reach the top with that mindset, having the hunger to win. We have taken it across all formats. Ruthlessness is something we definitely speak about all the time. Even if we close a series off, we want to win it without losing a game or drawing a game as well, if possible. We go in with that mindset and that goes a long way in a tournament like this. If we can think about our games in that manner, we get the results more often than not," he added.
For Kohli, the presence of 'two strongest pillars of the team' -- the experienced duo of Mahendra Singh Dhoni and Yuvraj Singh -- is a big boost for his team's chances of defending the title.
"They have enough experience that if you give them freedom to play their game in the middle order, I am sure they know most how to build the match, how to win, come out from difficult situations. What we got to see in the last series (against England), they played freely; they were enjoying batting with each other, first time they did it without the burden initially. It was good to see them play with a free mind the great players. The players above them also get confident and I think, overall, it was good for the team.
"The team environment received a boost because when these two players with good mindset, the team's outlook is different. I will regard them as the two strongest pillars of the team. The good their mindset, the better for the team," he said.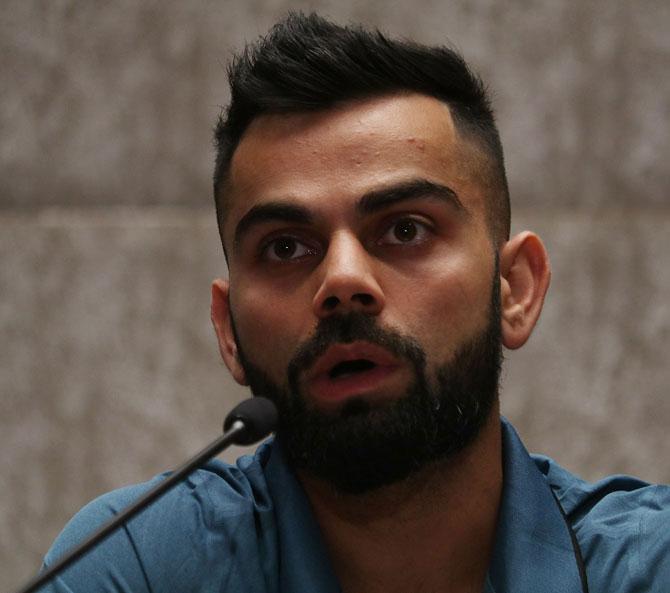 IMAGE: Just being match fit, just having the rhythm of bowling, the flow of batting, just the mental set-up of scoring runs in tough situations are something you can carry forward to all the formats, says Virat Kohli. Photograph: Hitesh Harisinghani/Rediff.com
Kohli says the Indian players, who featured in the just-concluded tenth edition of the Indian Premier League, won't have any problems adjusting from the T20 format to the 50-overs format for the eight-team ICC Champions Trophy tournament which starts on June 1.
"I don't think you can have too much similarity in both formats. From getting some game time, it helps a lot of people in staying in the zone of being match ready, to say the least. It is different for different people. Some people cannot connect the two formats at all, some people take the bits and pieces and put them into place in all three formats.
"Just being match fit, just having the rhythm of bowling, the flow of batting, just the mental set up of scoring runs in tough situations are something you can carry forward to all the formats. IPL being the high competitive tournament allows you to be in that zone when you play world-class players from all the teams. I think it could be the most competitive games you could be part of before something like Champions Trophy," he said.
The recently-concluded IPL turned out to be a nightmare for Kohli and his team Royal Challengers Bangalore, who finished bottom of the standings with just three wins out of 14 games. Coming back from an injury, Kohli, who missed the first few games of the tournament, ended with 308 runs in 10 games with four half-centuries.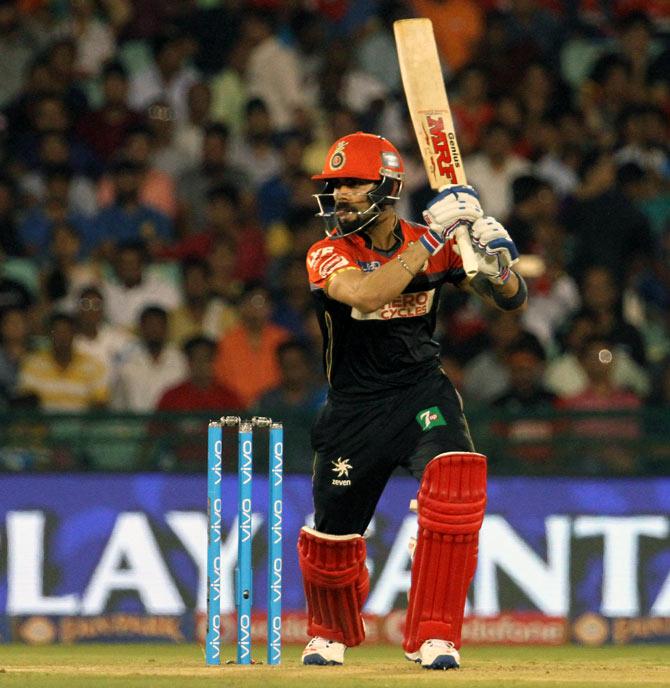 IMAGE: Virat Kohli had a dreadful time in IPL-10 as the Royal Challengers Bangalore finished at the bottom of the points table and did not progress to the Play-offs. Photograph: BCCI
The 28-year-old said that failure was a big learning experience for him, something which would hold him in good stead in the future.
"After the kind of season we had, it teaches you about yourself as a person at a few levels. From a mindset point of view, it made me realise that you cannot do everything in every game. Sometimes people might start looking at you like that, sometimes as a human being you need to realise your limitations and take a few step backwards. It was so bizarre, everything that we tried was going against us. I have never experienced that in a side, not just 11 but all 15 in the squad were all in the same mindset."
"It was bizarre and may be it was to teach me to keep balance things out and take a step back and think about how much you can to on the field and how much intensity with which you can play may be choose your phases.
"As I keep getting older those things are important and you need to avoid burnout too quickly. Those were the biggest learning for me. I was pretty fortunate that I got to experience such a time. It teaches you a lot as captain, it teaches you a lot, composure wise. You take a lot away from failures which is what I have always cherished," he added.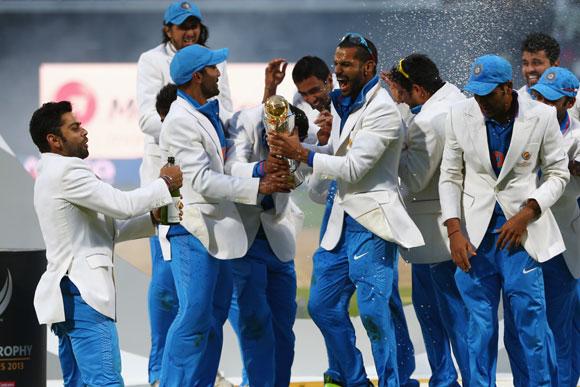 IMAGE: The Indian team celebrate with winners trophy as they celebrate their Champions Trophy win in 2013. Photograph: Michael Steele/Getty Images
India won the previous edition of the ICC Champions Trophy in 2013 in the United Kingdom. They finished unbeaten in the group stages, defeating South Africa, West Indies and Pakistan before outclassing Sri Lanka in the semi-finals.
In the rain-hit final reduced to 20 overs-a-side, India beat England by five runs.
Kohli pointed out that India, which has retained most of its players from two years back, would again look to focus on the strengths which helped them triumph last time.
"From the last Champions Trophy, the revelation for us was the opening partnership of Rohit (Sharma) and Shikhar (Dhawan). The pair was great to see for fans and the team. It definitely played a part in the team going on to win. (Ravichandran) Ashwin and (Ravindra) Jadeja were on top of their game. Even the fast bowlers bowled well. Even as a fielding side we were the best last time around. These three things we identified then and we would like to focus on these three things in England this time around as well. I felt these three were out strongest facets last time around in the Champions Trophy," he said.