'With the ball as well, we were brilliant. The bowlers bowled where they should and the fielders backed it up.'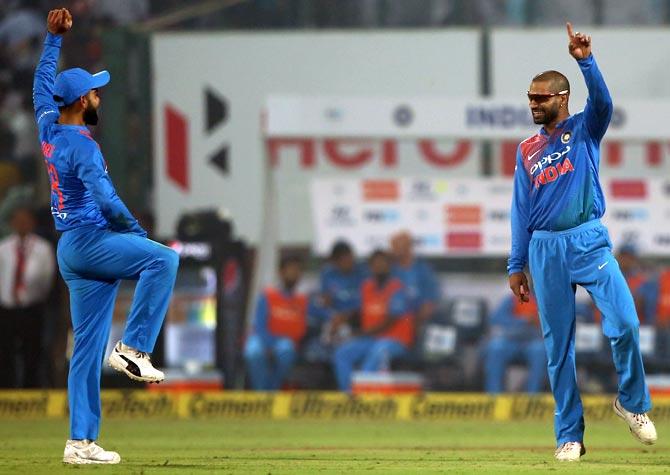 IMAGE: Virat Kohli, left, and Shikhar Dhawan celebrate the wicket of Colin de Grandhomme. Photograph: BCCI
Captain Virat Kohli credited India's first ever win over New Zealand in T20 International to the clinical show by both his batsmen and bowlers.
"Very clinical performance by the whole team. I thought the wicket was damp but Rohit (Sharma) and Shikhar (Dhawan) were outstanding. And with the ball as well, we were brilliant. The bowlers bowled where they should and the fielders backed it up," Kohli said after India's 53-run victory in the first T20 International in New Delhi on Wednesday.

He described Hardik Pandya's catch to dismiss Martin Guptill as one of the best catches he has ever seen.

Kohli was happy that Dhawan was able to show his T20 prowess with a range of shots in his 52-ball 80 which was laced with 10 fours and two sixes.

"Shikhar's one-day game is so good and he always wanted to convert that into T20 as well. I think his adaptability was spot-on today and he unleashed all the shots he had," said Kohli about his Delhi team-mate.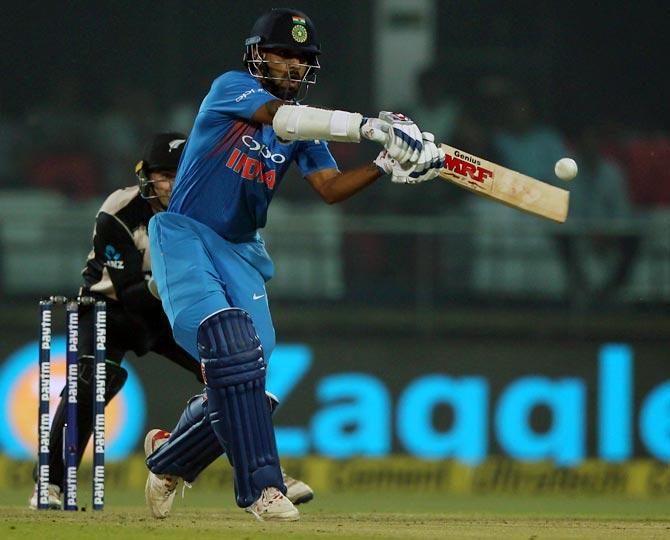 IMAGE: Shikhar Dhawan hits out. Photograph: BCCI
Asked about the composition of the playing eleven, Kohli said, "In T20 cricket, you need to keep picking wickets to win games and it's always nice to have options. Using Hardik at six and Axar at seven gave us those options. As a captain, you always need an extra option to pick wickets."

He also paid tribute to the retiring Delhi team-mate Ashish Nehra and said the team will miss him.

Asked about a photo of Nehra giving an award to a young Kohli long time back, the Indian captain said, "That was back in 2003 after he had come back from the World Cup. I was 13 then and struggling for a place in the school team.

"To have played 19 years is very hard for a fast bowler. I know how professional he's been and how hard he's worked. He deserved this kind of a farewell with the crowd cheering him. He can now spend time with his family, he's got a beautiful family. We will stay in touch but we will miss him and I wish him all the best."

New Zealand captain Kane Williamson termed his side's performance as disappointing but said they would look to bounce back in the second match.

"It was a disappointing performance tonight. We were very poor on the field. India played superbly. There are no excuses. We needed to play better. India were outstanding and never gave us a sniff. Our spinners bowled really well but the bowlers around them went for a lot of runs," he said.

"I want to congratulate Ashish on a fantastic career. I have played against him and with him, always a gentleman on and off the field," he said of Nehra, with whom he played together at Sunrisers Hyderabad in the Indian Premier League.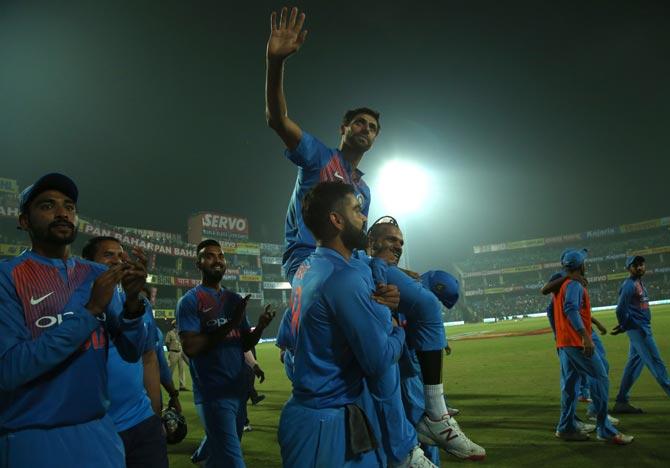 IMAGE: Virat Kohli and Shikhar Dhawan chair Ashish Nehra around the ground as he waves to his home fans at the Feroz Shah Kotla in New Delhi. Photograph: BCCI
Man-of-the-match Shikhar Dhawan said he needed this kind of performance as he has not done that well in this shortest format.

"I was very happy with the way I batted. It was needed because I hadn't really performed in T20 internationals," he said.

"It wasn't an easy wicket. Rohit started slowly, so I took over and did the scoring. I feel like I can play anywhere on the ground. I have got all the shots.

"All three formats are very important for me. I love all three formats and I love this game. I have got the belief that I can perform in all three formats and I make sure my processes and fitness are in place so I can compete with 25-year olds."
© Copyright 2020 PTI. All rights reserved. Republication or redistribution of PTI content, including by framing or similar means, is expressly prohibited without the prior written consent.