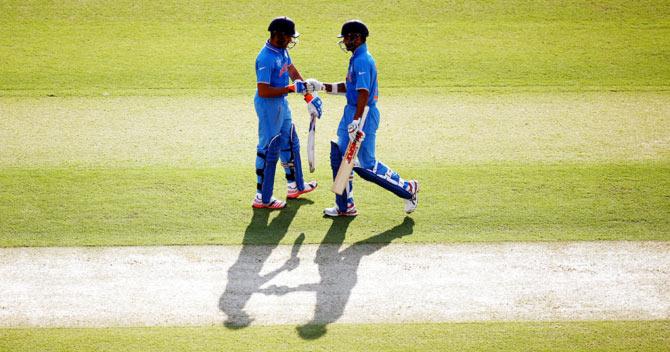 India's openers Rohit Sharma (left) and Shikhar Dhawan. Photograph: Morne de Klerk/Getty Images
As India suffered yet another defeat in Australia, captain Mahendra Singh Dhoni admitted he is struggling to identify his playing eleven for the high-voltage World Cup clash against arch-rivals Pakistan next Sunday.
- Schedule: ICC Cricket World Cup 2015
India lost its first warm-up game against top contenders Australia by 106 runs in Adelaide on Sunday and have one more game left against Afghanistan on Tuesday before the main tournament starts February 14.
"It has been difficult for us. When the batsmen click, the bowlers don't and when the bowlers do, the batsmen don't. We need to sort that out. What's important is that we have one more game in our hand and before playing Pakistan it would be good to have the first eleven in our hand," Dhoni said after the match.
The Indian captain though said "there are plenty of positives in the game" for them despite the huge defeat against Australia.
- Meet India's 15-member World Cup squad
Asked what he was looking at for identifying the playing eleven, Dhoni said there are quite a few things to watch.
"It will depend on our utility cricketers. If the pitches remain as it is, we need out spinners to use the bounce more. It's a very long tournament and what we have seen is the team that does well is the one that comes from the bottom and moves rapidly up," he said.
Dhoni was dismissed off the very first delivery as he pulled a short delivery from pacer Pat Cummins but was caught on the fine leg boundary by Mitchell Starc. Asked about his dismissal, he said,"I just played my shot with so many runs needed and the fielder up, but I never really thought it would go right to Starc."
- VOTE: Who will win the 2015 World Cup?
Australian captain George Bailey was delighted with his team's dominating performance.
"Great performance for us. I think you always can improve. Early wickets tonight would be nice to blow the game out of the water. We'd like to have lost a few less wickets and I'd like to Starc to catch with both hands," he said.
Bailey said they would love to win their second warm-up match and get into the groove before their World Cup opening game against England on Saturday.
"We have UAE next at the MCG, handy to get into the conditions there. Huge game against England, India are playing Pakistan as well. Getting momentum, getting confidence will be big," he said.