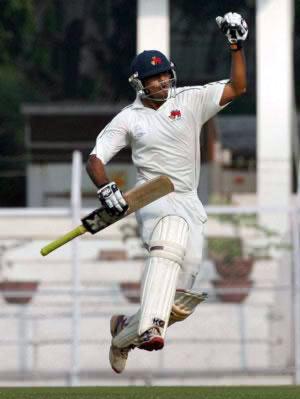 Mumbai's cricketing fraternity was taken aback after the Board of Control for Cricket in India found batsman Hiken Shah guilty of making a "corrupt approach" to a fellow-player during the last Indian Premier League season and suspended him with immediate effect.
"It's a shocking piece of news for me. We still can't believe that Hiken could be involved in such a thing," said a stunned Mumbai Cricket Association joint-secretary, Dr PV Shetty.
- I also want to play for my country some day: Hiken Shah
Did he, at any point in time, find something suspicious in Hiken's behaviour?
"Never ever! I always found him to be a good, sincere boy. At this point I would not like to comment as the BCCI will carry out a complete investigation," Dr Shetty said.
In fact, the news is yet to sink in for many who have seen the cricketer from close quarters.
"When Ankit Chavan was found guilty of spot-fixing, I found it difficult to believe that a boy like Ankit could have been involved in such a nasty act. Now it's Hiken, who was this quiet, unassuming boy," a former Ranji player from Mumbai said.
Hiken was one of those quintessential players who slogged it day in and day out in confines of domestic cricket.
"A decent left-handed batsman with loads of patience, he was a typical Mumbai khadoos (a term for gutsy fighter in Mumbai cricketing lingo) cricketer. He was not very talented and also failed to cement a permanent place as his 37 first class matches would suggest. His batting was effective without being attractive," the cricketer added.
What people in Mumbai cricket fraternity are finding tough to understand is as to what drove him towards this criminal act.
Hiken had a government job with Mumbai Customs, whom he represented in the Times Shield.
In the Kanga League, he played for Payade Cricket Club, owned by PV Shetty.
Image: Hiken Shah celebrates a century for Mumbai in the Ranji Trophy.
Photograph courtesy: Facebook