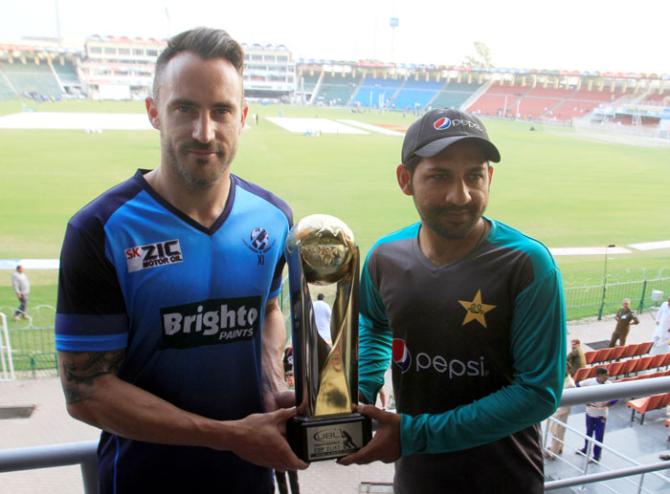 IMAGE: Pakistan captain Sarfraz Ahmed and International World XI captain Faf du Plessis hold the Independence Cup trophy at the Gaddafi Cricket Stadium in Lahore, on Monday. Photograph: Mohsin Raza/Reuters
Pakistan will host a World XI cricket team for three T20 matches starting on Tuesday and hopes the series will herald the return of international cricket to the country eight years after a militant attack on a Sri Lankan team bus.
The star-studded series to take place under tight security will be closely monitored by other cricket boards and if all goes well Pakistan expects to host Sri Lanka and West Indies this year, Pakistan cricket board chairman Najam Sethi said.
Pakistan has only hosted one international series since militants attacked the bus in Lahore in 2009, wounding six players and killing two civilians and six security officials.
In March, calls for the return of international cricket picked up steam after the final of the domestic T20 Pakistan Super League, featuring high profile foreign players such as World Cup winner Darren Sammy, was held in Lahore.
"It's a great opportunity to showcase Pakistan," Sethi told Reuters, adding that these matches could revive cricket in the country.
"This is a momentous occasion."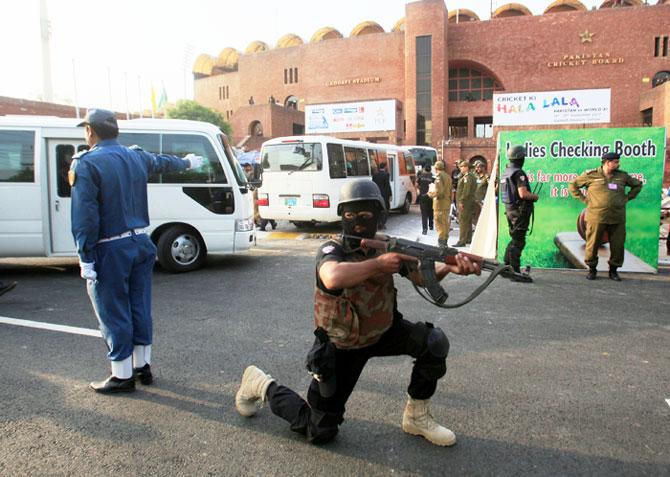 IMAGE: A member of the police elite force guards busses carrying cricket teams to Gaddafi Cricket Stadium for practice ahead of the World XI cricket series in Lahore on Monday. Photograph: Mohsin Raza/Reuters
Over 6,000 police officials and paramilitary officers have been deployed around the stadium, according to provincial government spokesman Malik Muhammad Ahmad Khan.
"A foolproof security plan has been devised for the protection of the teams and spectators," he said.
Attacks in Lahore have become less frequent in recent years but security remains high as Pakistani Taliban and other militants groups remain active. A Taliban suicide bomber killed 25 people in July in an attack that appeared to target Lahore's police force.
The streets of Lahore were swathed in posters of the visiting players and advertisements for the matches. Long queues formed at vendors across the city and many fans were turned away as tickets sold out.
"I am very excited," Lahore resident Qasim Ali Shah told Reuters.
"I have bought a ticket, an expensive one, and will go to watch the match tomorrow.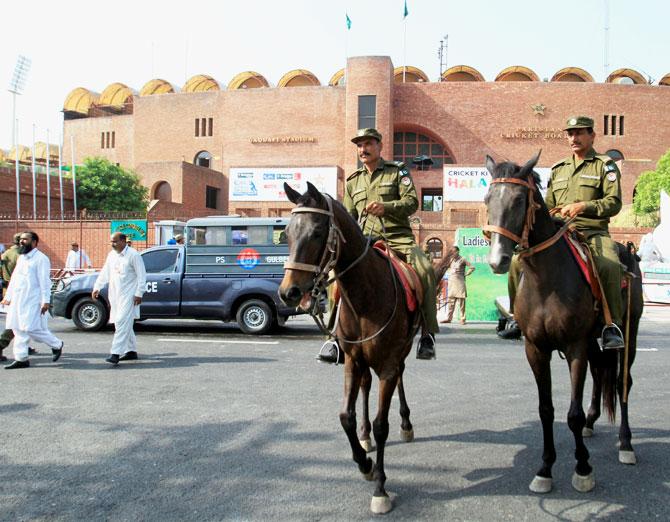 IMAGE: Mounted police officers patrol in front of Gaddafi Cricket Stadium ahead of the World XI cricket series in Lahore. Photograph: Mohsin Raza/Reuters
Local television channels had pre-match footage on a constant loop, showing players arriving for practice at Lahore's Gaddafi Stadium.
For young fans and many players on the team itself it is one of the first times they can experience a high-profile match on home turf.
Pakistan's cricket board has shouldered the expense of hosting matches in Dubai since the 2009 attack and lost considerable revenue in fees and other expenses.
"Dubai has proven to be a very expensive venue and my sense is we will cut our costs by 50 percent when it comes back to Pakistan," Sethi said.
Cricket board spokesman Amjad Bhatti said an estimated 90 percent of tickets had been sold.
"I wanted to watch all of the three matches but could not get tickets," said aspiring cricketer Rameez Sindhu.