'India have the upper hand in ICC tournaments. But things can change, and this is the time for us to change'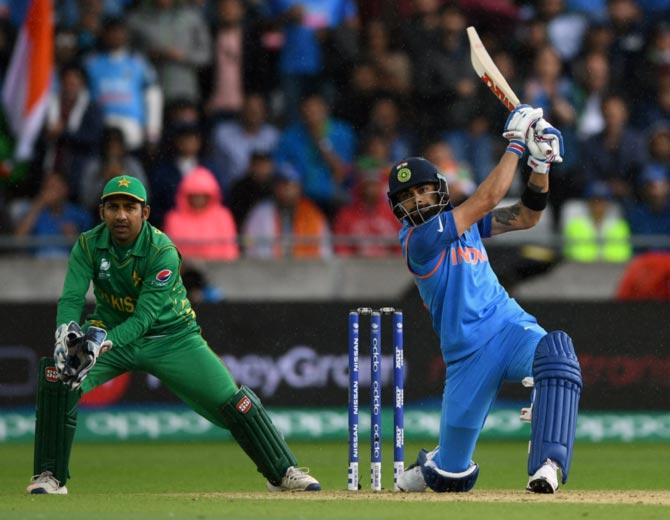 IMAGE: : India captain Virat Kohli hits out as Pakistan skipper Sarfraz Ahmed looks on. Photograph: Gareth Copley/Getty Images
Pakistan have a chance to change their history of poor showings against India in ICC tournaments when they take on the arch-rivals in the Champions Trophy 'dream final', bowling coach Azhar Mahmood said on Friday.
"India have the upper hand in ICC tournaments. But things can change, and this is the time for us to change the tag that we don't perform well at ICC events," Azhar said.
"History can change, and I hope we can (change it)," he told reporters at the Oval after his team's training session.
India have won all three of their previous matches against Pakistan in the knockout stages of ICC tournaments but Azhar said there was no reason why his side would not be able to reverse the trend on Sunday.
He insisted that a Pakistan victory would not be a shocker despite coming into the tournament as underdogs.
"It wouldn't be a shock if we win. No one gave us a hope when we got here. We were the number eight ranked side, and no one gave us any credit. But someone asked me before the tournament who would be in the final and I said Pakistan," Azhar said.
"I believe in my boys ... if we win it would be a great gift to the whole nation," said the former Pakistan all-rounder who is now a British citizen.
Azhar insisted that the burden of expectation was now on India's shoulders and not on his side.
"We've got nothing to lose -- the pressure is more on them. They are ranked higher than us - so everyone is talking about India, India. But I can tell you one thing -- we have come to win."
"It is massive match. India refuse to play against us (in Pakistan's adopted home of the United Arab Emirates). But (now) on the biggest stage it is India v Pakistan. It is like the Ashes ... it is bigger than the Ashes -- and expectation is high from both nations, crazy about cricket.
"The pressure is high for both sides and their countries... it is a dream final for the sponsors and the broadcasters. This is the game they want, but it is up to us how we handle the pressure on the day."