'Virat, as a captain, is very positive and will back an attacking bowler. He will possibly believe that Kuldeep has more to offer than Ashwin or Jadeja, and then that's the route Virat will take. And then the wrist spinner has to perform, and replicate with the red ball what he has done with the white ball. We won't know until he is given a go'
'At the same time, India's pace attack is a massive threat as well. I think they are two evenly matched teams. In the past, India haven't always travelled well and the last time (2014), I wasn't even sure they wanted to be here. But under Virat's captaincy, you can see the team replicating his characteristics and personality. They are not only a team of fighters, but of quality as well. They have covered all bases nicely and I think it will be closely fought Test series'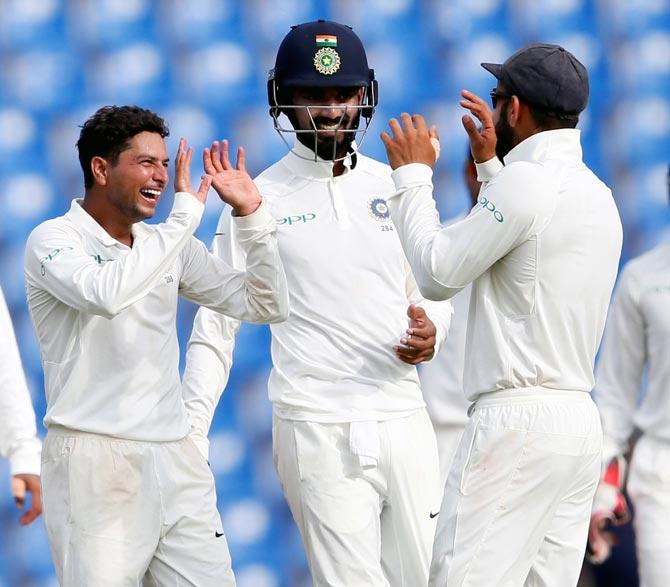 Left-arm wrist spinner Kuldeep Yadav has generated a lot of interest in the England ranks but former skipper Alec Stewart believes that Test matches will be a completely different ball game for the youngster if he pips the seasoned Ravichandran Ashwin in the Playing XI for the first Test.
"I am a massive fan of Ashwin and he is an impressive performer. Jadeja has had some good success against England as well. But if someone has got mystery, you might want to play him," Stewart told PTI in an interview.
"Virat, as a captain, is very positive and will back an attacking bowler. He will possibly believe that Kuldeep has more to offer than Ashwin or Jadeja, and then that's the route Virat will take. And then the wrist spinner has to perform, and replicate with the red ball what he has done with the white ball. We won't know until he is given a go," said Stewart.
However Stewart feels that Joe Root's successful decoding of Kuldeep during ODIs will have a bearing on the Test series.
"A mystery spinner creates doubts if you haven't faced much of him, and it makes for great cricket when the batsmen are trying to figure out from 18-22 yards, which way it will go. But England, especially Joe Root, started to work out Kuldeep since Lord's and the question is how Kuldeep is going to bowl in Test cricket," Stewart said.
Stewart then explained the practical difficulties that Kuldeep might face in Test cricket.
"All of a sudden, he won't have four men at the boundary. He will have four men around the bat, and the batsmen don't have to try and score with a positive intent. Can he bowl enough good balls and ask questions of the batsmen as he had done in white-ball cricket?
"In ODIs and T20Is, you can get away with bad balls with batsmen getting caught off full tosses (Eoin Morgan) or sweep slogging caught at deep midwicket (Jason Roy). Would Kuldeep have those fields in a Test? Would batsmen play those types of shots? No, instead, it will be a game of cat and mouse and it remains to be seen if Kuldeep can make those adjustments for Test cricket in England," Stewart said..
There has been a heatwave in UK but if it gets cooler and the ball swings, Stewart is confident that James Anderson and Stuart Broad will kill the game.
"The weather has been predictable, in that it is hot and expected to stay hot. It is why Test cricket is such a beautiful game because we are going into the unknown. Will the ball swing, at all? If it swings, then Anderson and Broad are still as good as they have ever been in the game.
"They will be looking to take wickets, and for England, the new ball will be key. If they can take early wickets and expose the Indian middle order while the ball is still swinging, then England will quickly kill the game. Can England make those early inroads to get in at Virat or anybody else in the middle order while that new ball is still doing something," said Stewart.
"If India can see off those two world-class swing bowlers, then batting will get easier for the middle order as well. That's the beauty of Test cricket because the game is allowed to evolve over a period of time while the challenge is always there."
Stewart however feels that Indian pace attack comprising Umesh Yadav, Ishant Sharma and Mohammed Shami can also pose threat.
"At the same time, India's pace attack is a massive threat as well. I think they are two evenly matched teams. In the past, India haven't always travelled well and the last time (2014), I wasn't even sure they wanted to be here.
"But under Virat's captaincy, you can see the team replicating his characteristics and personality. They are not only a team of fighters, but of quality as well. They have covered all bases nicely and I think it will be closely fought Test series," he added.