'One bad Test match doesn't make a bad cricket team, not at all.'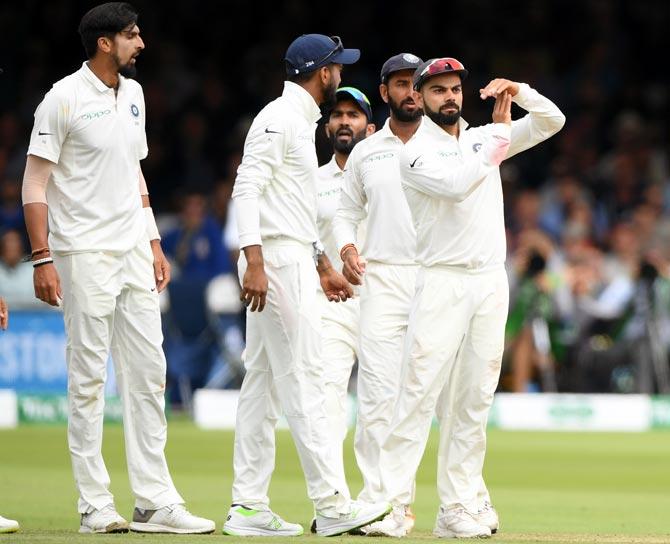 Former Australia batsman Dean Jones backed the Indian team to bounce back after being thrashed by an innings and 159 runs by England in the second Test at Lord's, on Sunday.

"I am expecting that the Indian team will bounce back. They got one bad day when the ball swung around (at Lord's). Look it is very important to bounce back, that is what sport is all about.

"One bad Test match doesn't make a bad cricket team, not at all," Jones said in Mumbai on Monday.
India are trailing 0-2 in the five-match series against England after losing the first two Tests at Birmingham and Lord's.

"It can happen with the conditions over there (at Lord's). There are sometimes where you can be over analysed (with the) technique a little bit, you think too much about it, that is just the way it went. They have to regroup and come back now," said the former Australia batsman.

Jones believes that the ball swung more in the Lord's Test than any other Test anywhere in the world in the last three years.

"The stats proved that the ball moved in this Test match more than any other Test match in last three years anywhere in the world.

"And you have the two-three best guys around, particularly James Anderson. Unfortunately, they (India) walked into a storm and they just couldn't get out of it. But, hopefully, there will be better weather in the next matches," he opined.

Jones said now it was up to the Indian captain Virat Kohli and head coach Ravi Shastri to instill confidence among the players and make them work hard to get things right against the moving ball.

"As a coach it is difficult to bring back the confidence. Ravi has got a big job, and Virat (Kohli) too, to bring the guys back and the only way to do it is through hard work.

"Just go in there and have net practice after net practice, try and get yourself a thousand balls, get used to it again, regroup, come back, work on your defence and make sure that what is your game plan. When it is swinging like this, what is your game plan," he said.