Cricketer parted ways with Adidas in November.
Viveat Susan Pinto reports.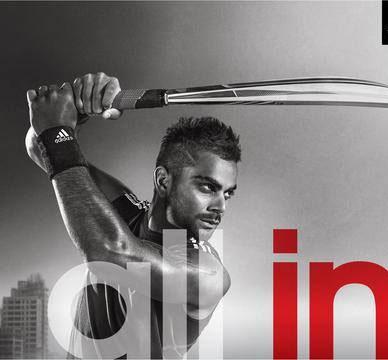 Indian cricket Captain Virat Kohli may tie up with sportswear brand Puma following the end of his three-year endorsement deal with rival Adidas.
Kohli and Adidas parted ways amicably in November 2016 and highly placed sources say the cricketer has been on the lookout for a sportswear sponsorship since then.
As things stand, Kohli has 16 brands in his endorsement portfolio, including bat sponsor MRF.
A potential sportswear deal then with Kohli will include one which involves other parts of his kit, namely his shoes, pads and gloves.
Even then, Kohli is unlikely to go below the Rs 10 crore (Rs 100 million) a year that Adidas paid him for three years.
A mail sent to Puma India elicited no response till the time of going to press. Kohli's manager Bunty Sajdeh, who is chief executive officer of Cornerstone Sports and Entertainment, said the news was speculative and there was no truth in it.
While Puma has had a brand endorser in cricketer Yuvraj Singh since November 2011, the last few months has not seen much activity from the two.
Apart from wearing Puma shoes, pads and gloves, the brand features on Singh's bat, considered the most prized asset in a sportswear deal.
But the Puma sticker was missing from Singh's bat in India's warm-up match with England on Tuesday, increasing buzz of the two having parted ways.
Up until last year, Puma paid Singh Rs 4 crore (Rs 40 million) for having its sticker on his bat.
This was the third highest after Kohli and M S Dhoni, who were paid Rs 8 crore (Rs 80 million) and Rs 6 crore (Rs 60 million) for having stickers of MRF and Spartan respectively on their bats.
Kohli and Dhoni are also among the top two endorsers in the cricketing world, charging Rs 2 crore (Rs 20 million) and Rs 1.5 crore (Rs 15 million) respectively per day as endorsement fees.
While Kohli is amongst the biggest cricketing sensations at the moment, sportswear will not be the only gap that he will have to fill in his endorsement kitty.
Sources in the know say Kohli's 18-month endorsement deal with Audi is up for renewal, implying that a four-wheeler slot is also open.
And the big gap in smartphones was filled on Monday, with Kohli being appointed as brand ambassador of Gionee.
Last month, Kohli also signed up with luggage major American Tourister, which will see him feature in campaigns not only in India, but also markets such as Bangladesh, Pakistan, Sri Lanka and West Asia from March.