West Indies cricket great Michael Holding, who came out in support of the 'Black Lives Matter' movement, has been awarded the Freedom of the City of London along with former England women's team player Ebony Rainford-Brent for standing up against racism.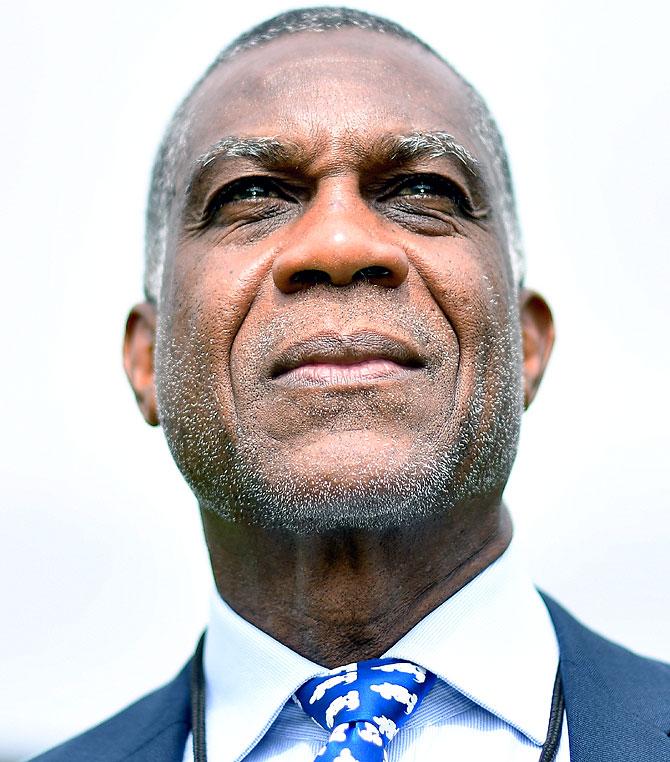 The Freedom of the City of London is a recognition awarded to people who have achieved success, and recognition in their field.
"It is entirely right to call out prejudice in all its forms, and Ebony and Michael have taken a courageous stand in speaking out against racism in this country," William Russell, the Lord Mayor of the City of London, was quoted as saying by Sky Sports on Tuesday.
"The granting of the Freedom of the City of London recognises how they have added their voices to the growing global movement to stamp out racism."
Holding had delivered a powerful message against racism during the recent England-West Indies series, saying that blacks have been dehumanised and their accomplishments wiped off from a history "written by people who do the harm."
Rainford-Brent was the first black woman to play for England. She played 22 ODIs and seven T20 internationals between 2001 and 2010.
BLM gained momentum in the wake of African-American George Floyd's death at the hands of a white police officer in the USA in May.
Holding had also given an emotional account of the racism faced by his parents, while ex-England Women international Rainford-Brent explained how being "drip-fed" comments about her ethnicity caused her to question her future in cricket.
The 66-year-old Holding, who is retiring from commentary soon, felt that over the years, people have been brainwashed by an education system that portrayed black race negatively and refused to acknowledge its contribution to humanity's advancement.
Rajiv Shukla set to be unanimously elected as BCCI vice-president
Former Rajya Sabha MP Rajiv Shukla will once again become the vice-president of BCCI after the members have unanimously decided to elect the veteran Congressman.
Shukla had earlier been a vice-president during N Srinivasan's regime and was also a popular chairman of the IPL governing council.
Shukla's name has been proposed by DDCA president Rohan Jaitley and seconded by Uttarakhand's Mahim Verma, who had vacated the post earlier this year.
Once Verma had vacated the post of BCCI vice-presidency, Shukla's reinstatement was always on the cards.
It is learnt that Shukla didn't need to go for a cooling-off period as IPL chairmanship isn't considered as a tenure for an office-bearer.
Shukla will be officially elected during BCCI's Annual General Meeting in Ahmedabad on December 24.
IPL chairman Brijesh Patel and Khairul Jamal (Mamon) Majumdar are the two members who have been re-elected in the governing council.
"At this time, none of the units want any election. It was always going to be unanimous choices. Patel's re-election was proposed by TNCA top boss RS Ramaswamy and Kerala's Sreejith Nair seconded his name," a senior official of a state unit told PTI.
In case of Majundar, CAB president Avishek Dalmiya was the proposer and Mumbai Cricket Association secretary Sanjay Naik was the seconder.
DDCA rejects Azad's application, Bedi complaints to Ombudsman
The Delhi & Districts Cricket Association (DDCA) has rejected the application of former India player Kirti Azad for the post of state team's selector, which has prompted legendary Bishan Sigh Bedi to file an official complaint with the ombudsman.
While DDCA didn't give any official reason for the rejection, it is understood that Azad's application had been rejected on two counts.
Firstly, he is 61 years old. While the DDCA hasn't kept any age-cap, they would prefer somebody below 60 years for the job. Secondly, Azad had previously been a DDCA selector from 2002-04, same time when he was also the national selector from North Zone.
"Bishan paaji has officially raised the issue with the DDCA ombudsman because there aren't any grounds to reject Kirti's (Azad) application among those who have offered their candidature. He is a Test cricketer and World Cup winner," a close friend of Azad told PTI on conditions of anonymity.
As per sources, former opener Ashu Dani, leg-spinner Chetanya Nanda and former coach Bhaskar Pillay are in fray to become selectors.
As far as coach's position is concerned, Virat Kohli's childhood coach Rajkumar Sharma is in the fray along with Manoj Prabhakar.
MCA appoints Amit Pagnis as Mumbai coach for 2020-21 season
Former Mumbai and Railways cricketer Amit Pagnis was on Thursday named as coach of the Mumbai team for the 2020-21 domestic season, which starts with the Syed Mushtaq Ali Trophy T20 tournament from January 10.
The Mumbai Cricket Association made the announcement through a media release.
"Cricket Improvement Committee of MCA has appointed Amit Pagnis as coach of the Mumbai Senior Men Team for the season 2020-21(ending 31st March 2021)," the release jointly issued by secretary Sanjay Naik and joint secretary Shahalam Shaikh stated.
The CIC comprises former India players Lalchand Rajput (chairman), Raju Kulkarni and Sameer Dighe.
Pagnis, 42, played 95 first-class matches in which he scored 5,851 runs.
The domestic season will start with the Syed Mushtaq Ali Trophy, the national T20 championship, which begins from January 10, 2021.
Domestic giants Mumbai are placed in Elite Group E and will play their matches in Mumbai only.
Ratra gets extension as Assam coach
Former India wicket-keeper Ajay Ratra's contract as Assam coach has been extended by one year.
The 39-year-old, who featured in six Tests, 12 ODIs for India and played 99 first-class cricket matches and 89 List A games, was appointed Assam's coach last year.
Under Ratra, who has worked with the Indian women's team and the NCA, Assam finished eighth in Group C at the Ranji Trophy last season.
"I got a call from the association on Monday. I am on my way to Guwahati. Looking forward to another season with the team," Ratra told PTI, confirming the development.
The much-delayed Indian domestic season will commence with the Syed Mushtaq Ali Trophy, the venues for which will be declared later.
The tournament is set to be played across six states under-bio secure environment from January 10 to 31 and teams will have to assemble at their respective bases by January 2.
Dav Whatmore to coach Nepal
The Cricket Association of Nepal on Thursday appointed World Cup-winning former Sri Lanka coach Dav Whatmore as their chief coach for the upcoming season.
Whatmore initially was to coach India's first-class side Baroda but since BCCI SOP with regards to cricket during COVID-19 explicitly asks states to avoid having senior citizens (60 plus) in its squad as support staff, the state unit decided against availing Whatmore's services.