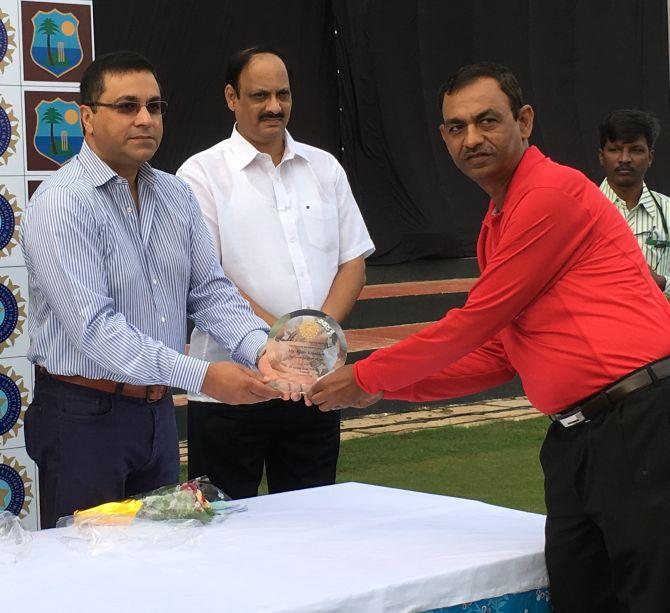 Former BCCI umpire Rajiv Risodkar has translated the Laws of Cricket into Hindi, which have been uploaded on the website of the Marylebone Cricket Club (MCC).
The MCC is the custodian of cricket laws.
"It is a matter of pride for the Madhya Pradesh Cricket Association (MPCA) that the Hindi translation of the Laws of Cricket (The 2017 code 2nd Edition 2019) framed by MCC is now available on the official website of this prestigious club.
"The translation has been done by Risodkar," MPCA's honorary secretary, Sanjeev Rao said on Friday.
Risodkar, 58, served as the BCCI umpire from 1997-2016.
Presently, he is a BCCI Level 3 umpire educator and in the last two decades, has trained many umpires.
"Traditionally, the language of cricket rules is considered as English. On the proposal of BCCI, I translated these rules into Hindi so that it can reach as many people as possible in this cricket-crazy nation," said Risodkar.
He expressed hope that it will also benefit a large number of Hindi-speaking umpires and those giving training in this field, to whom the rules in English are hard to understand.
He said it took nearly a month for him to complete the task.
The Lord's-based MCC was established in 1787 and since then it is shouldering the responsibility of framing laws for cricket.
Denly to join white-ball group as England release five players from Test bubble
Ahead of the ODI series against Ireland, Joe Denly will join up with England men's white-ball training group next week at the Ageas Bowl.
England have released five players from the bio-secure bubble at Emirates Old Trafford. Dan Lawrence, Craig Overton, Ollie Robinson and Olly Stone have returned to their counties after missing out on selection for the Ruth Strauss Foundation Test in Manchester, which started on Friday.
"While Denly will join up with the England camp at the Ageas Bowl on Monday ahead of the Royal London ODI Series, the other four players will be available for their counties in the build-up to the start of the English domestic season, which starts with the Bob Willis Trophy on 1 August," England and Wales Cricket Board said in a statement.
Earlier, England named all-rounder Moeen Ali as the vice-captain for the upcoming series against Ireland.
England are scheduled to play three Royal London ODIs against Ireland at the Ageas Bowl, starting on July 30.
Behind-Closed-Doors ODI Training Group: Eoin Morgan (captain), Moeen Ali, Jonathan Bairstow, Tom Banton, Sam Billings, Henry Brookes, Brydon Carse, Tom Curran, Liam Dawson, Ben Duckett, Laurie Evans, Richard Gleeson, Lewis Gregory, Sam Hain, Tom Helm, Liam Livingstone, Saqib Mahmood, Matthew Parkinson, Adil Rashid, Jason Roy, Phil Salt, Reece Topley, James Vince, David Willey, Joe Denly.
Ahead of ODI vs England, Ireland raises white-ball visibility issues at empty stands
Ahead of the three-match ODI series against England, Ireland has raised an issue on the visibility of ball after their fielders struggled to pick up the white ball against the backdrop of empty cream-coloured seats in an intra-squad practice match.
"The thing that's a little bit of a concern is the background. The seating is either cream or white, and you've got a white ball and an empty stadium, so that background for fielders might be a challenge," ESPNcricinfo quoted Ireland's head coach Graham Ford as saying.
All three games in the series will be played at the Ageas Bowl, where Ireland and England have been staying since last week. While empty stands did not cause major issues for fielders in England's Test against West Indies at the ground earlier this month, Ireland's players found it difficult to see the white ball against the light seats.
Ireland's captain Andy Balbirnie said that he hoped extra sessions will prepare his fielders for the challenge.
"It does take a bit of getting used to, but we've got a week of prep and we can make sure that we hone that, and make sure that guys are comfortable and almost getting their eyes in while fielding. It can be tricky: a white ball on cream and white seats will be tricky, but we've got enough time to make sure we can't use that as an excuse," he said.
The first ODI between England and Ireland will be played at Ageas Bowl in Southampton on July 30, followed by on August 1 and 4 respectively.
Cricket South Africa to finally address racism claims
Cricket South Africa (CSA) has announced plans to address alleged racism in the game after Proteas fast bowler Lungi Ngidi voiced his support to the global Black Lives Matter (BLM) movement.
In the wake of Ngidi's support for BLM, 30 former players including Makhaya Ntini came out with allegations of racism during their playing days.
Batting great Hashim Amla, who retired last year also, backed Ngidi for taking the stance that he did.
"The national outcry by cricket fans, the greater South African public and broad stakeholder groups could not be ignored," CSA said in a statement on Friday referring to the project named "Cricket for Social Justice and Nation Building' (SJN).
CSA will set up a "Transformation Ombudsman", whose core function will include the management of the independent complaints system as well as overseeing the healing, restoration and uniting process of cricket players, fans, and the nation, starting with the disgruntled former players.
"We are sorry that our cricket players had to endure the emotional hardships that they did; subjugated by their peers along racial lines under our new democracy that enjoined us to embrace reconciliation and inclusivity," said CSA Board Chairman Chris Nenzani.
"SJN is the first-of-its-kind project meant to rid cricket of apartheid racial discrimination. This is a very important project that all stakeholders must make sure succeeds for the future sustainability of cricket."
Nenzani came out strongly to condemn those opposed to fighting transformation in South African cricket, which under apartheid-era laws restricted national squads to white players only until the 1990's.
"The fortunes of cricket, its players, stakeholders, and fans are not going to be held to ransom by the wayward few who definitely have no place within our ranks.
"We are determined to pull out all stops to ensure that healing takes place for those who have been wronged, and that perpetrators are exposed, sanctioned, and isolated," Nenzani said.
CSA Acting CEO Dr Jacques Faul: "We commit that never again shall we be found wanting and will consolidate our efforts to assure an inclusive cricket environment, free of any discrimination, racism or any other ill that negate the gains of the democracy that we fought so hard for."
NZ coach Stead terms his contract extension talks as 'positive'
New Zealand coach Gary Stead has described the talks with the country's cricket board on his possible contract extension as "positive".
Stead's initial two-year term was set to end after the T20 World Cup in Australia which was earlier scheduled in October but was last week postponed by one year due to COVID-19 pandemic.
"Talks have been pretty positive and, if New Zealand Cricket and the players feel as though I can keep contributing then I'd be interested in continuing on," Stead was quoted as saying by stuff.co.nz.
The Black Caps' next assignment is tentatively scheduled as a home series of two Tests and then limited overs internationals against West Indies starting in late November, pending government approval and quarantine arrangements.
They last played in an ODI against Australia in Sydney on March 13.
Stead rejected speculation that he wanted Tom Latham as his Test skipper in place of Kane Williamson and said there was a discussion to clear the air.
"Kane and I have a really strong relationship, and we spoke about it. There was no basis in truth and the disappointing part is it's coming from somewhere and someone, but it's not Kane and it's not I," Stead said.
"I really enjoy working with Kane. The discussions we have are robust and always directed at what's best for the team, which is something I know we are truly aligned on."
New Zealand players, including Williamson, have started training under Stead's watch at camps at Lincoln, near Christchurch, and Mount Maunganui.
Rajasthan to release documentary of their 2019 campaign
India Premier League side Rajasthan Royals will release a documentary series on August 1, showcasing the franchise's 2019 season campaign.
The three-part series named "Inside Story" will be available on Jio platforms and will include interviews and "never-before-seen footage" from the Royals camp, a release said on Saturday.
Featuring stars like skipper Steve Smith, Ben Stokes, Sanju Samson and Riyan Parag, the documentary showcases the journey of a season in which Royals finished seventh out of eight teams.
The documentary has been in works since March last year with Royals agreeing to let a film crew follow them through the season.
Speaking on the release of the documentary series, Rajasthan Royals COO Jake Lush McCrum said, "We are delighted to launch this documentary to entertain both Royals fans and sports lovers around the world during this challenging time. We hope this will increase the excitement and anticipation of the 800 million IPL fans."