'Jasprit Bumrah has potential and is looking very good indeed'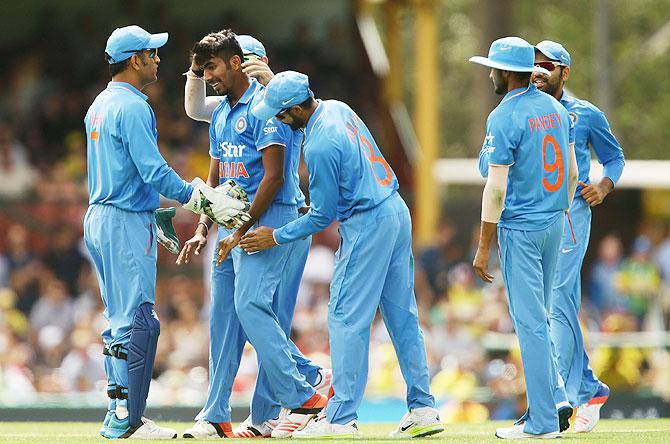 IMAGE: Jasprit Bumrah India celebrates a wicket with teammates. Photograph: Matt King/Getty Images
India captain Mahendra Singh Dhoni is highly impressed with young Gujarat pacer Jasprit Bumrah, who has given the Australian batsmen hard time during the limited overs series in Australia that concluded, in Sydney, on Sunday.
- India's reversal of fortune is surprisingly thanks to their bowlers
"At the end of the day, we have won and I am happy it's a comprehensive victory. Winning 3-0 against Australia in Australia is always a big one. But it is more about how the team is looking rather than just from a captain's view.
"We have won the series over here but it is important to look at the bigger picture. Jasprit Bumrah has potential and is looking very good indeed. Even today he bowled the Yorkers really well."
Veteran Ashish Nehra also came in for some praise from the skipper.
"The formats are different but it was the bowlers that we were really looking for and I feel when it comes to fast bowlers, Bumrah and Ashish Nehra have done a good job in the three games they have played. Hardik Pandya as a package is very good. He is a good fielder and at the same time if he gives me those couple overs, and the reputation he has with his batting lower down, he looks like a good one to have in the side," he said.
Indirectly Dhoni also made it clear that likes of Ishant Sharma and Umesh Yadav might find it difficult to break into the limited overs side considering their inconsistent performances over the past few years.
"We came here with a slightly inexperienced bowling attack but at the same time we wanted to try different people. Because we had been trying the same few individuals and we have been getting the same results. So it was high time that we gave chances to a few individuals in the domestic circuit and see what really they have to offer.
"As far as only talent is concerned, there were a few people who looked good but they will have to improve further. But the find of the tour for me was Bumrah. The way he has bowled in the last three games he has been really good," he added.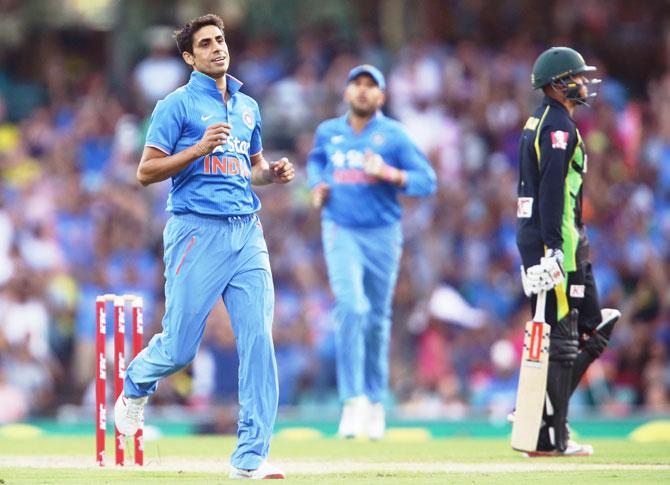 IMAGE: India's Ashish Nehra celebrates taking the wicket of Australia's Usman Khawaja during the third Twenty20 match against Australia at Sydney Cricket Ground on Sunday. Photograph: Matt King/Getty Images
Dew became a factor in this match also and that was the reason that a big target like 198 seemed gettable.
"Dew had set in which meant that it was a big score but the way we were batting in the series so far it was definitely a target we could chase down. And the kind of start provided by the openers was what was needed ideally, and it was well capitalised by Virat Kohli coming in at No 3.
"After that the game got close when we lost him but overall we never thought that it is something that is beyond a par-score. And I feel that we have closed the series really well because we are always lacking that one extra step from the side. In the last 3-4 games, we can definitely say that we have done it as a team, but I would still give that extra credit to the bowlers," said Dhoni.
"From the Sydney ODI onwards, the bowlers have turned it around to some extent and the batsmen were still doing the job of scoring the runs. This must be the only series where every time people have scored 300 runs and we have done that without too many batsmen getting a chance to bat except in Canberra.
"I think the batsmen were doing a really good job. Then the bowlers started chipping in more, maybe it was the extra fielder outside the circle they get in the T20s as compared to ODIs. But the bowlers knew they will have to give us that extra 5-10 percent and that's what they did," he added.