Kolpak deals to end; Cricket South Africa director of cricket Graeme Smith says they will welcome back any former Kolpak players who are willing to be part of the domestic structures as the national side struggles to rebuild its ailing Test team.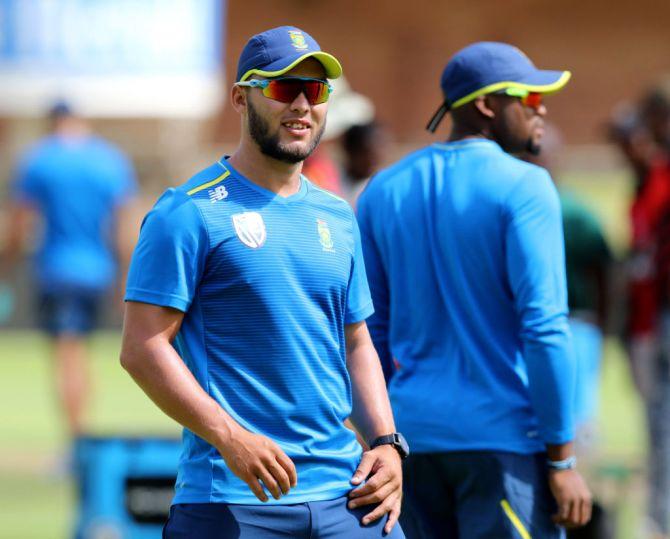 The end of Kolpak deals offers South African cricket the chance for an injection of much-needed experience and talent into the domestic game that should provide more depth for the national team.
The United Kingdom's exit from the European Union will bring to an end a loophole that currently gives anyone with a work permit from a country that has an associate trading agreement with the European Union the same rights as an EU worker.
South African cricketers have been major beneficiaries down the years, signing lucrative contracts with English counties that automatically disqualify them from representing the national team.
But Cricket South Africa director of cricket Graeme Smith says they will welcome back any former Kolpak players who are willing to be part of the domestic structures as the national side struggles to rebuild its ailing Test team.
These include Essex spinner Simon Harmer, who was named one of five cricketers of the year in the 2020 edition of Wisden Cricketers' Almanack, seamers Duane Olivier and Kyle Abbott, and batsman Rilee Rossouw.
"With Kolpak coming to an end, I guess the willingness is always to have our best players in the system," Smith told reporters via a video conference.
"It is up to the players to come back into the system and to make decisions on their careers.
"From our perspective, we want to encourage all our best players to play here domestically, and then give themselves the opportunity to be selected for the national side."
Seamer Dane Paterson, who played in two Tests against England in January, became the 45th South African to take up a Kolpak deal when he signed for Nottinghamshire earlier this month.
But he could well be the last with the UK set to exit the European Union in December, which could see a rush of seasoned former South Africa internationals back into the frame for selection.
"We don't ever want to exclude players from being part of our system and we understand that the landscape of the world game is very different now to what it was," Smith continued.
"Open minds and how we look at these things is going to be key to how we keep our best players. How we keep them motivated and in our game."
The Kolpak ruling is named after Maros Kolpak, a Slovak handball player who in 2000 claimed restraint of trade and won a European court ruling that allowed him to play in Germany before Slovakia became part of the EU.
We are still safe, but future is uncertain, says CSA CEO Faul
Sporting bodies and leagues across the globe might have felt the impact of COVID-19 but Cricket South Africa has not yet reached a position of financial vulnerability due to the pandemic, CSA CEO Jacques Faul claimed.
While Faul maintained that CSA is still safe, he admitted that the future looks uncertain.
He, however, said as of now the financial condition of CSA is stable enough to do away with salary cuts of its players and staffs.
"At this stage' there is no indication for us and we haven't lost income. Everybody's financial position is a bit different' I think money available for players will be less' probably not in the forthcoming season but the season after," Faul was quoted as saying by timeslive.co.za.
"Historic rights are sold' that gets paid over a certain period of time. Ours were sold for eight years' so there is still money that flows into your account.
"(But) if your future content doesn't take place then your money gets cut. At this stage we are monitoring but we can't make the decision to cut salaries when we haven't experienced the loss yet. That will be an irresponsible thing to do at this stage."
The official said at the moment CSA is safe but can't give a future guarantee.
"For now we don't have to panic but it is not to say that it will not happen in future. It also depends on the makeup of your income streams' sometimes it is also a very good position to qualify for government aid," Faul said.
"To give you a good example' if we lose out on the Indian content' that may trigger it but it hasn't happened."
CSA suffered a financial blow when the limited overs tour of India was cut short last month with two ODIs in Lucknow and Kolkata being cancelled because of the pandemic after the series opener was washed out in Dharamsala.
With COVID-19 wreaking havoc across the globe, South Africa's limited overs tour to Sri Lanka in June was postponed on Monday due to the global health crisis with uncertainty looming large over the tour to the West Indies in July.
Faul said CSA has already formed a committee to plan out various strategies post COVID-19.
"We are starting to roll out post COVID-19 lockdown scenarios and how to deal with the financial impact' and we have established a scenario planning committee to look into it'" he said.
"There are certain things we can do immediately. There is a low level of predictability we are doing benchmarking and using the other three pillars of our planning.
"Our world will be affected by the world economy where predictions are not good. Our funding model is based on incoming tours and the ability of our sponsors to service certain agreements. We hope to have more in terms of strategy in the next two weeks but we have determined certain milestones and dates where we can assess."
Faul said the CSA has already devised a structured plan and worked out scenarios of financial vulnerability in certain areas.