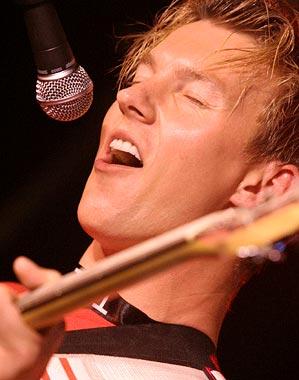 Fast bowler Brett Lee, who hopes to get back into the Australian cricket team for the 2011 World Cup, could earn 20 million dollars in the next six to seven years from his Indian ventures like a clothing line, modeling assignments, a television deal and Bollywood roles.
Commenting on his career prospects in India, Lee's manager Neil Maxwell said: "He has the earning potential of 20 million dollars in the next six to seven years."
"There is such a huge market over there - where Bollywood stars sign up for 40 million dollar deals -- he has such a broad range; there are limitless opportunities. Over there it's like Beatles stuff, he's mobbed, with phone numbers stuffed in his pockets," he said.
Lee has been to India more than 35 times, and he "can't get enough of their culture, music and fashion", said the Sydney Morning Herald.
"I don't know what it is -- I just love the people and I have just taken a real interest in it and I want to do a lot more over there with the charities. We worked with Deakin University there, helping to put clean drinking water into communities…
"Spending time through a leadership coaching role -- these kids with nothing behind them, just have this love for cricket -- it's an incredible country. You can walk into the most amazing seven-star hotel and walk out the door and find immense poverty. Yet, in saying that, these kids are happy. All you do is smile at them and their eyes light up," Lee said.
Surjit Gujral, whose restaurant in Annandale is a cricketing temple and a regular hangout for Lee and the Australian team, said Lee's love for India has made him beloved to most Indians.
"He is the most popular person in India. All the kids want to become Brett Lee… He always mixes with the local people when he is in India: he gets out and plays with the kids and that has built his reputation as a great man," said Gujral.
(ANI)